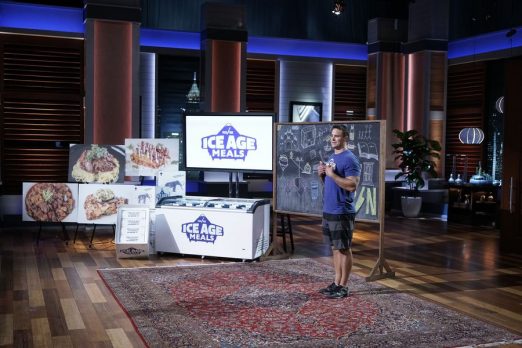 Culinary Ninja Nick Massie first started experimenting with frozen meals to create a healthy, athlete friendly, and convenient alternative to the standard frozen meals one usually finds in the grocery store. The approach he takes – making meals in small batches and testing the "freezability" before going into production led to a product that is far superior to other frozen options. All the meals Ice Age Meals produce are made with a Paleo twist. All their meals except the Lemon Pepper Chicken and Rice, are grain free. The meats are grain fed and organic, too.
The hype leading up to Massie's appearance indicates he gets in to it with the Sharks. His company is very new – they started in January 2016 in Reno. Massie has 20 years of culinary experience under his belt and he's a big cross fit competitor. The combination of chef experience and nutritional expertise makes Ice Age Meals a lot healthier than a typical frozen meal. Maybe that's why they are doing 5000 meals a week out of the small strip mall shop in Reno.
Each meal costs $10.99, with slight discounts per meal when you order sampler packs. Shipping is free when you order more than 14 meals. The pictures of the dozen different offerings on the Ice Age Meals website look delicious, too. How Nick got to 5000 meals a week is the real story. They offer a subscription model, so that may be part of their success. Whatever the story is, it will be interesting to see how someone can go from nowhere to over $50K in sales per month out of the gate.
Massie says he wants an investor to help him grow both his production and freezer storage capacity. He wants to sell 100,000 meals a week. That's a lofty goal, but achievable if the product is good. The question is will the Sharks like the taste and the deal.
My Take on Frozen Meals
I do all the food shopping and cooking for our family. I have a keen eye on "cost per meal." I often play a guessing game about it at the dinner table with my wife and daughter. I gave up on grains (except for the ones in beer) last May and quickly shed 30 pounds, so many of our family meals have a Paleo twist (the girls get pasta and rice a lot though). Basically, we eat a lot of meat, sweet potatoes, and vegetables. Massie's frozen meals look good in the pictures, so I am intrigued.
Since I cook every meal, I like a break sometimes. That means a weekly night out – usually on fifty cent chicken wing night at Norma Jeans. It used to mean an occasional frozen lasagna, but my new diet prohibits that now. I like the look and nutritional balance of Ice Age Meals, and the price, while slightly more than double our household's cost per meal, isn't too intimidating. At under eleven bucks a meal, the convenience factor compensates for the occasional "treat" of not cooking, but it's not something I'd eat every night.
The other thing that troubles my is microwaving good cuts of meat. The tri-tip and rib offerings look yummy, but I am leery of getting rubbery meat from a microwave. Some of the other offerings, like the Mexican meatballs and Fajita pie, look like they could be "gloppy." Massie says all his frozen meals are tested for texture, but he's a Ninja. Microwaves and meats have never been a good combo for me.
I am, however, willing to try and I ordered 14 meals to try out. I'll review the meals here on the Shark Tank Blog, so until I taste them, I remain on the fence.
Will Sharks Go All Paleo?
Massie is on to something if he has the sales he claims. Will the Sharks believe it? The food needs to taste good, too. Nothing kills a food product faster than when the Sharks don't like it. Deal or no deal, if the Sharks say the dishes are tasty, Massie will sell a lot of frozen meals on Friday.
The ABC PR release for this episode says Massie "gives a poetic pitch for his delicious heat and eat Paleo meals, which inspire the Sharks to respond with poetry of their own." That doesn't sound like a good thing. Shark poetry sounds like it could be snarky. The poet laureate of the Shark Tank, Mr. Wonderful, doesn't wax poetic when he wants to make a deal!
While I believe this pitch will be entertaining, I think Massie leaves without a deal.