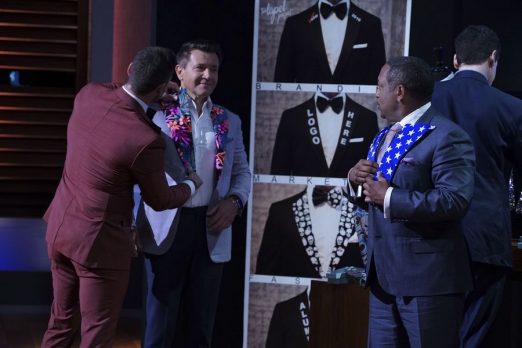 Lapel Project creator Sebastian Garcia is no stranger to the fashion industry. He's co-owner of  Sartori Amici, an upscale Miami clothier that sells fine Italian suits. He also owns The Grooms Room, a service that outfits the groom and his groomsmen on wedding day. It's safe to say, Garcia knows the fashion industry. He'll need to have all his years of experience and knowledge in the Tank if he wants a Shark to invest in the Lapel Project.
The Lapel Project is a business that sells custom lapel covers that "convert" any suit jacket into a tuxedo jacket. Suit jackets have lapels that match the fabric of the suit while tuxedo jackets have contrasting lapels. His goal is to make a tuxedo affordable. Rather than rent or buy a tux, any suit can "become" a tuxedo with his lapels, a bow tie and a comberbun.
The lapels come in a wide variety of colors and patterns ranging from subdued to outright wild. You can even customize your lapel. At about $50-60 a pop, the Lapel Project is an affordable and fun alternative to the tuxedo; in fact, that's Garcia's mission. Whether he needs a Shark's cash or not, he probably wants help growing an online business.
My Take on The Lapel Project
Since moving to Florida, my new uniform is shorts, tee shirts and flip-flops. I parted with all but one of my dozen or so suits and I still own a tuxedo. I rarely wear either, and that's fine with me. Back in the day, when I wore a suit every day to work, I might have worn a Lapel Project lapel, but I am probably not a customer now.
That said, the lapels look like a fun way to jazz up a suit, even if it's not for turning it into a tuxedo. The flashier lapels look like great conversation starters, which is important for salespeople. I think they'd make a great ice-breaker and Garcia says they are wonderful for trade shows. Even though they are cool, I still wouldn't wear one. For that reason, I am respectfully out.
Do Sharks wear Tuxedos?
Other than Mark, the Sharks are all snappy dressers. In the photo at the top of this post, Robert and Daymond are trying the lapels on. Mark tries it on too, but he'll say he's out because he's a casual dresser. All the other Sharks could bid, however.
Daymond is the obvious target, but Mr. Wonderful might find room for an obviously wedding themed item in his Something Wonderful Platform of Love. Robert has a history with novelty clothing items (Tipsy Elves, Happy Feet), so he could be interested. The easy demonstration, mass appeal and low price could appeal to Lori, too.
I have to think Garcia wants Daymond. In the ABC PR release, Daymond calls Garcia the "best salesman he has seen," which is high praise. Daymond did a deal with Mission Belts, largely due to the drive and salesmanship of entrepreneur Nathan Holzapfel. I am willing to bet Daymond has at least heard of Garcia, too. The Lapel Project website is under construction as of the date of this post. It says it's opening as a Shopify store. That reeks of Daymond. I think Daymond will have this business in his lapel before the night is over!