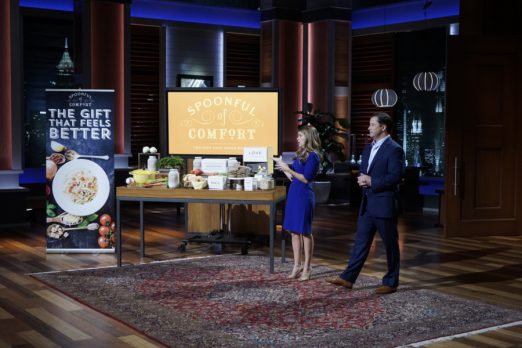 Marti Wymer and Scott Gustafson pitch Spoonful of Comfort, their comfort food delivery service, in Shark Tank episode 801 – the season eight premier. Wymer got the idea for the business in October, 2007 after hearing her mother was diagnosed with cancer. Since mom was in New Brunswick, Canada and she was in Florida with small children and she'd just returned from visiting her mom, she couldn't go see her.
She brainstormed about how to comfort her mother and decided to send her some home-made chicken soup. That's how her mom always comforted her, so she returned the favor. Sadly, her mother passed just 6 weeks later. Wymer started Spoonful of Comfort as a way to honor her mother by letting folks easily send gourmet gift baskets to loved ones who are far from home.
In addition to the signature chicken soup, Wymer ships homemade tomato basil soup and potato leek soup. Each gourmet care package comes with 64 ounces of soup, a half-dozen rolls, a half-dozen cookies (chocolate chip, oatmeal raisin or sugar), a serving ladle and a hand-written note card. The package costs $69 and customers can add tea, inspirational books, blankets and more for an additional charge.
Wymer offers a 100% guarantee. She says on the website: "It is my promise to make and deliver a Spoonful of Comfort with as much care as if I were sending it to my own mother." 
Will a Shark give Wymer the comfort of additional funds for growth?
Spoonful of Comfort Shark Tank Recap
Marti and Scott enter the Tank seeking $400,000 for 10% of their company. They do their pitch and tell their story then hand out samples of chicken soup and tomato soup to the Sharks. The Sharks are mortified that each care package costs $69.99 plus $14.99 for shipping.
When they started, it was costing $18 to acquire a customer plus $31 to make each package – they were selling them for $35 and losing money. Even so, they did $100,000 in sales the previous year. When Barbara learns another investor put $1.3 million into the business, she goes out. Mark quickly follows. Daymond likes the idea, but can't see it growing; he's out. Lori likes the soup, but doesn't think the business is scalable; she's out. Robert says they've been in business five years and still haven't worked the kinks out; he's out. Kevin said he didn't know how he could help get their acquisition costs down and he's the last Shark to go out.
Spoonful of Comfort Shark Tank Update
The Shark Tank Blog constantly provides updates and follow-ups about entrepreneurs who have appeared on the Shark Tank TV show. After the Tank, this business made some changes. They expanded their soup flavors and have occasion based packages (Get Well, Sympathy, New Parent etc.). They have baskets for kids, too.
The 2020 Covid-19 pandemic was a boon to this business. Since Shark Tank, they've gone on to do $68 million in total revenue as of August, 2022.
Posts About Spoonful of Comfort on Shark Tank Blog
Spoonful of Comfort Company Information
Video