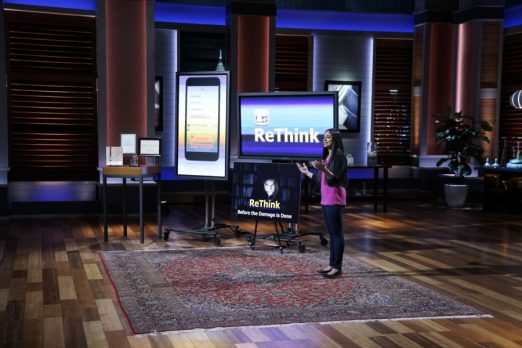 16-year-old coding wizard Trisha Prabhu pitches ReThink, her anti-cyberbullying software, in Shark Tank episode 801, the season 8 premier. ReThink is a computer software application and smartphone app that uses an algorithm that recognizes hurtful language and urges the author to literally re-think about sending the message. It works for social media and texting.
Prabhu got the idea for the patent-pending software in the fall of 2013 after she read a news article about an 11-year-old girl who committed suicide by jumping off a water tower. The girl was a cyberbullying victim. Trisha knew there were mechanisms in place on social media sites and in schools to combat cyberbullying after it occurred, but she wanted to prevent it from happening at all in the first place. She learned to code at a young age and by 2014, she developed the software.
A study showed when kids are alerted about bullying language before hitting the "send" button, they elected to NOT send the offensive message 93% of the time. The same study concluded ReThink users reduced "the overall willingness of the average adolescent to post an offensive message reduced from 71% to 4%."
The software download for Apple and Android devices is free. There is also a "community edition" for schools and school districts – presumably at a price.
Accolades
The high school student from Naperville, Illinois has many accolades to her name. She was a Google Science Fair Global Finalist in 2014, MIT (Massachusetts Institute of Technology) Aristotle Award winner, and 2016 Illinois High School Innovator Award by University of Illinois at Urbana-Champaign for ReThink. She was also honored as Global Teen Leader 2015 by We Are Family Foundation and won the "Global Anti-Bullying Hero" award from Auburn University, "Anti-Bullying Champion" award by the Princess Diana Awards, UK and Upstander Legacy Celebration award from Tyler Clementi Foundation. That's quite a set of accomplishments for a high school student!
Trisha likely wants a Shark to help her with her pending patent and with monetizing her software. Will a Shark Re-Think her proposition and invest?
ReThink Shark Tank Recap
Trisha enters seeking $100,000 for 20% of her business. There is an onscreen demo of the app to show how it works. She tells her story and begins fielding questions. Robert wants to know if he could still send an offensive message even after the app asked if he still wanted to. He can.
She's primarily targeting schools with a cyberbullying curriculum. In nine months, she has 128,000 downloads with about 80,000 users a day. Barbara doesn't think it will work as a business, she goes out. Kevin quickly followed. Robert doesn't think the technology is anything new, but when Tricia tells him she has wireless carriers interested in the technology, things heat up.
Daymond offers $100,000 for 30%. Lori offers the $100,000 for 20% and asks if Mark wants in on the deal. Mark said he would and they shake on it.
ReThink Shark Tank Update
The Shark Tank Blog constantly provides updates and follow-ups about entrepreneurs who have appeared on the Shark Tank TV show. The deal with Lori and Mark never closed. In October, 2020 she received $300,000 from the Elevate Prize Foundation to continue developing the app. She was named the youngest person to the Forbes 30 under 30 list at age 20. As of May, 2021, there are over 5 million users worldwide. Trisha graduated from Harvard in May, 2021 with degrees in Computer Science and Political Science. As of August, 2022, the app is now available in French and Dutch and is in 16 Caribbean countries. Trish continues to run the company and does a lot of public speaking. As of April, 2023, Trisha's net worth is reported to be $2 million.
Posts About ReThink on Shark Tank Blog
ReThink Company Information
Video