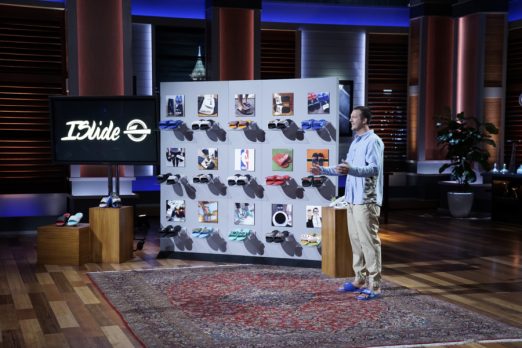 Justin Kittredge pitches ISlide, his customizable slide style sandals, in Shark Tank episode 801 – the season 8 premier. Joining him in the Tank is Pittsburgh Steelers wide receiver Antonio Brown! Justin, a 13-year veteran of the footwear industry, started the business in 2013. Since then, they became the "preeminent leader in slide sandals."
Slide sandals are like flip-flops, but they have the single strap across the foot as opposed to the thong straps of a flip-flop. When Justin left his job as director of basketball products for footwear at Reebok to start ISlide, he knew there was an unmet need for off-court footwear. He wanted a comfortable Slide Sandal that customers could customize any way they want. They also offer licensed products with sports team names, colleges and more. Customers can order ISlides in bulk for their organizations or teams, too.
The heart of every ISlide is the patent pending "Waves Gel" sole. Complete with built-in arch support, it feels like walking on water. On the company website, you can choose from a multitude of colors and customize the strap with any image or phrase you want.
The company sold 15,000 pairs in 2015 and is on track to do over $1 million in sales in 2016. Kittredge likely wants a Shark's help with inventory and sourcing.
Will a Shark slide Kittredge some cash and invest?
ISlide Shark Tank Recap
Justin enters the Tank seeking $500,000 for 5% of his company. This annoys Daymond. He tells his story and about how he works with many celebrities in the sports and entertainment industry. Then, he gives each of the Sharks a custom pair of slides. Robert tried his out and pronounced them the most comfortable sandals he's ever worn.
When Daymond questions the valuation, Justin says he's done $1.5 million in sales in three years. It costs him $15 to make a pair of custom sandals and he sells them for $50. Only 15% of his business is custom, the rest is from drop shipping and sports teams. The drop shipper is a rapper DJ Khalid. He has Justin put sayings on the sandals then has them shipped to his customers.
Just as Justin is about to be eviscerated by Mr. Wonderful for his valuation, Antonio Brown strolls onstage wearing his slides. He says he likes them and even sells some on  his own website. After more discussion about the valuation, Lori says nothing can stop someone else from doing the same thing. She's out. Robert says he likes the slides and offers $500,000 for 20%.
Justin asks if he can hear other offers – usually that's a big mistake in the Shark Tank. Kevin makes it easy and goes out. Barbara goes out citing the valuation. Mark says it wasn't investable for him and he's out. Daymond goes out too, again citing the valuation. Justin counters with 10% but Robert won't budge. Justin won't either, even with some prodding from Antonio Brown. He leaves without a deal.
ISlide Shark Tank Update
The Shark Tank Blog constantly provides updates and follow-ups about entrepreneurs who have appeared on the Shark Tank TV show. After the original air date, Justin struck deals with Nickelodeon, Fanatics and a host of sports and entertainment celebrities. He also did a licensing deal with the NBA, MLB, NHL and sells that merchandise in Dick's Sporting Goods. In December, 2019, the company was valued at $10 million and received seed funding from Milwaukee Bucks President Peter Feigin, Memphis Grizzles forward Jae Crowder and David Baxter, former president of Adidas Sports Licensed Division and LIDS.
Despite a difficult 2020, iSlides continues to thrive. Up until the global Covid-19 pandemic hit, he was seeing 25% revenue growth per year. Since a big part of his sales are to sports teams, both professional and college, when sports got cancelled, so did a lot of his sales. There were also supply chain issues. He had to furlough employees and apply for the government Payroll Protection Plan. As of May, 2021, things are slowly getting back to normal and they're playing sports again. He's out of the woods and hopes to return to the $9 million in annual revenue he saw before the pandemic.
In August, 2021, the company partnered with Perfect Game, the world's largest youth baseball and softball platform and scouting service. The partnership will offer customized slides to clients as well as branded Perfect Game slides. By January, 2022, he's still experiencing supply chain issues, but sales are back on track. As of January, 2023, the company is now a global brand garnering $10 million in annual revenue.
Posts About ISlide on Shark Tank Blog
ISlide Company Information
Video