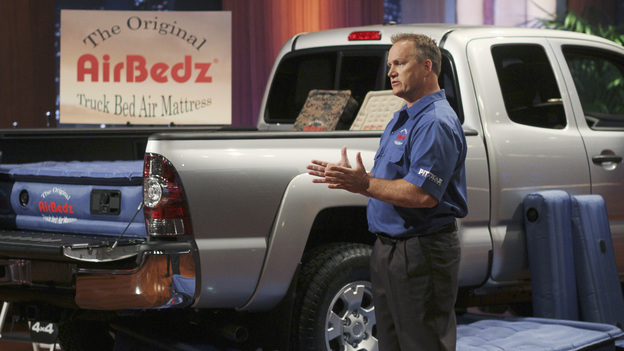 AirBedz entrepreneur Jim Pittman looked like a buffoon when Mark Cuban told him to "get up off your ass and sell" in episode 313. At the time, I raised some public questions about the validity of Pittman's patent for AirBedz. Rather than engage in a discussion about patents, Pittman lawyered up and I received a terse letter asking me to pull my post. Being a free speech type, I was prepared to tell his lawyers to piss off. Then I looked at my stats for the show. Out of about 18,ooo visitor's to this website that day, only around 100 were for the AirBedz post; half of those were from IP addresses in Pittman's community (probably his lawyer's office). Rather than make a big stink about it, I pulled the post – because NOBODY CARED!
AirBedz in the Shark Tank
The Sharks liked AirBedz. Who wouldn't? It IS a good idea. If you do a lot of camping and have a pick-up truck, it's a terrific accessory. Mr. Wonderful thinks it's too much of a niche product, he's out. Robert and Daymond are out too. Mark likes the product, but he tells Pittman to "get off your ass and sell;" he's out. Barbara offers $250k for 50% of the business. Pittman counters with 25% and Barbara goes out.
AirBedz after the Shark Tank Update
Pittman claimed all sorts of patent protection for Airbedz. Unfortunately for Pittman, the USPTO recognized another company (TruckBedz) as the holder of the patent for the AirBedz design! Looks like "The Original Truck Bed Air Mattress" aint so original after all. To make a long story short, apparently Pittman "borrowed" the idea for the air mattresses from the holder of the patent, TruckBedz, and proceeded to copy not only their product, but their website and marketing strategy as well. There have been numerous confrontations and court battles about this, but ultimately justice prevailed. With patent 8316484 finally recognized, TruckBedz can get back to the air mattress business and stop worrying about patent lawsuits. TruckBedz initially applied for the utility patent back in 2006 and it was FINALLY granted in November 2012; the length of time it took ought to give people an idea of how messed up our patent system is!
It appears Barbara was lucky Pittman didn't take the deal! I am told AirBedz will be served formal notice of all "Airbedz" and "Airbedz Lite" models infringement of patent 8,316,484 any day now. Looks like the air is out of this venture. As for Pittman's lawyers – don't send me any letters, I have the first amendment AND the TRUTH on my side.
File under "Litigious Asshat."
Here are the REAL pick-up truck air mattress:
****Note to readers and entrepreneurs****
When I originally reported on this story, my intent was to engage Mr. Pittman in a discussion and help him promote his product. We support the entrepreneurs here at the Shark Tank Blog and I love this product; back in the day when I camped a lot and had a pick-up, I'd be a customer. When there is a story, good or bad, I reserve the right to tell readers about it, but I will always welcome ALL SIDES of the story. Unfortunately, Mr. Pittman doesn't get that. If he spent as much money and energy on product development and sales instead of "borrowing" ideas,  covering his tracks and hiring lawyers, maybe he would still have a viable business. There is MUCH more to this story, but space and time limit me in this format. Maybe I'll tell the whole story in my book…….