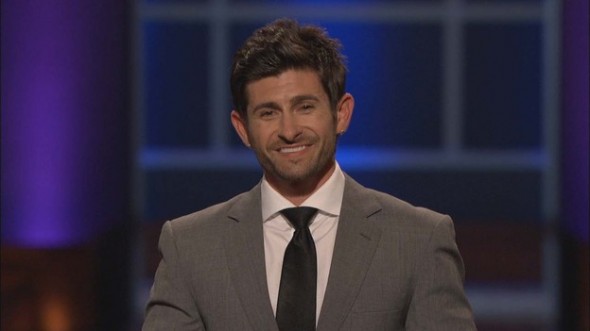 Alpha M Style System creator Aaron Marino brings his information product about how men can look better with grooming and fashion. Marino, who claims he was "born to help dudes pick out underwear and talk about manscaping," created a six DVD product that teaches style, grooming, and projecting a successful appearance. The product was an outgrowth of his Alpha M Consulting business which he claims has helped over 6,000 men go from "average Joe to Alpha Male."
Alpha M Style System Shark Tank Recap
Aaron entered the Shark Tank seeking $50k for a 10% share in his business. He quickly becomes a Shark Tank classic as he educates Mr. Wonderful on "manscaping." He tells the Sharks his system is only a month old and he's had 75 sales. The six DVD set sells for $297. During his presentation, he demonstrates the system's methodology by transforming a guy from slob to snappy dresser.
Daymond thinks he'll have to do too much work for this business, he's out. Kevin doesn't see the leveraging opportunity even though he finds the business interesting, he's out too. Barbara thinks $297 is far too expensive for the product and Robert agrees with her; they're both out. Mark enjoys dressing like a slob, so he's out too. Aaron leaves the Tank without an investment.
Alpha M Style System Shark Tank Update
Even though he only sold one product after the Shark Tank appearance, Aaron continues to consult men on their personal style. He has a reduced price, download version of the Alpha M Style System available for only $197 – $100 less than the offer he had when he first pitched the Sharks. Aaron continued to market his services online and consult with average Joes and celebrities on a regular basis, but the course ran its course and it is no longer available.
Aaron returns to the Shark Tank in season 7, pitching Pete and Pedro Bueno Hair – a line of premium hair care products for men. In addition to that business, he also started Tiege Hanley, a skin care line for men; ENEMY Shades, a line of premium sunglasses and a hair salon in his home town. As of July, 2021, Aaron's net worth is $4 million.
Posts about Alpha M Style System on Shark Tank Blog
Company Info