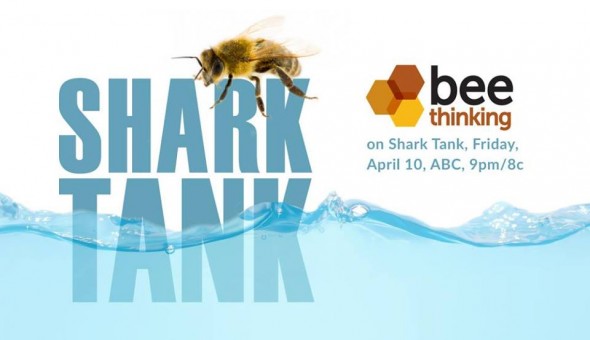 Matt Reed wants a honey of a deal when he pitches Bee Thinking, his manufactured beehive and bee-keeping supplies business, in Shark Tank episode 629. Reed started the company with his wife, Jill, in 2008 as an internet resource for people interested in bee-keeping. Soon after, they began selling manufactured, "foundationless" beehives. Their business grew from a small, local concern to selling thousands of hives world-wide.
Bee Thinking sells three types of hives for bee-keeping: the Top Bar Hive which is light and has easy access, the Warre Hive which is the easiest to maintain, and the Langstroth Hive, which is the "traditional" box hive most people will be familiar with. The hives cost anywhere from $199 to over $400 depending on the options and extras provided. Bee Thinking also sells all the bee-keeping accessories you'd need, plus honey and other bee related products.
The Reeds' mission is to build awareness about bees in the ecosystem and to bring bee-keeping to the masses. They promote all-natural methods and don't endorse the use of chemicals in their hives. All their hives are made at their mill in Portland, Oregon with the finest quality lumber available. They're likely looking for cash to improve their production processes.
Will Bee Thinking score a honey of a deal or will the Sharks give it the Sting?
Bee Thinking Shark Tank Recap
Matt opens with an "at home" segment where he explains colony collapse disorder which is killing off alarming amounts of honey bees. He enters the Tank seeking $400,000 for 10% of the business. Matt explains how he got into the business and began building beehives. He started a blog and people kept asking to buy his hives.
The business has done $500K to date this year. He says people buy his hives to help the environment. The hives cost $150 to meet and sells them for $300. Mr. Wonderful reflects on his grandmother's bees in her apple orchard.
Matt explains each style of hive and how the bees occupy the hives. Mr. Wonderful says he's proven his business, but it's not worth $4 million, he's out. Mark says he's impressed but thinks an investor will create more stress, he's out. Lori doesn't like honey, so she's out.
Robert loves Matt's story and how Matt's "all in," doesn't think $400K will help, so he's out. Daymond thinks it will take too long to get his money back. He says he'll be a customer, but he's out.
RESULT: NO DEAL
Bee Thinking Shark Tank Update
Even though Matt left the Tank without a deal, he's been busier than a bee. Interest in his hives led to many sales and third party interest. Daymond also became an avid bee keeper and customer. A detailed update on Bee Thinking occurs in Beyond the Tank episode 201.
Matt shuttered the business in 2017 due to the inability to keep up with orders. He reopened it a year later and re-branded the business to Bee Built. As of April, 2023, he's still in business with annual revenue of $3.5 million.
Posts About Bee Thinking on Shark Tank Blog
Bee Thinking Company Information
Video