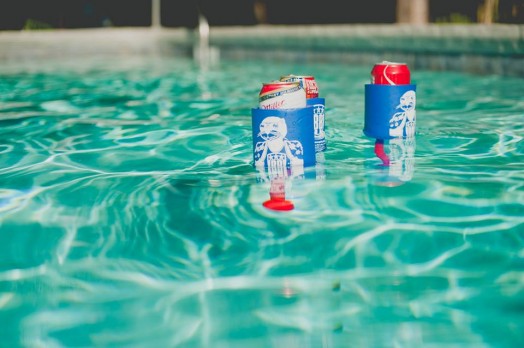 Kevin Waltermire is on a mission to make BeveragBoy, his floating beverage holder, a standard household item. He pitches BeveragBoy in Shark Tank episode 615. According to Waltermire, BeverageBoy the product "is named after the American River Otter Superhero, BeverageBoy, whose superpower is to make beverages float."
The product is a twist on the ubiquitous foam can cooler or "koozee." What makes it different is a counterweight attached to the bottom of the koozee – it keeps the koozee from tipping over while floating in the water! For folks with a pool, BeverageBoy is practically indispensable. The opportunities for BeverageBoy as a "swag" or promotional product are nearly endless.
Waltermire's only been in business since July, 2013, so he hasn't created much traction – yet. He's likely looking for a Shark to help him scale quickly.
Can Mr. Waltermire float a successful deal with a Shark?
BeverageBoy Shark Tank Recap
Kevin enters with a "male model" who slips into a hot tub with a Beverage Boy. Kevin asks for $50K for 15% of the business. The hot tub model spills a drink and the Sharks scream "stop the madness!" Then, the model attaches a Beverage Boy and demonstrates it.
He explains he's sold 2500 units for about $10,600 in sales. It costs him $2, he wholesales it for $5, and he retails it for$9.99. He went to the Promotional Products Tradeshow and sold out, but he forgot to bring order forms. Mark doesn't like that, he's out. Kevin says Kevin Waltermire isn't worthy of the name Kevin; he renames him "Zonk" and goes out. Robert goes out too. Lori doesn't think it's a QVC product, it's more Target. She offers $50K for 40% because she'll have to work. Daymond offers the same deal and he has 180Cup, a similar product. Kevin (Zonk) wants to go to 30%. Lori accepts as long as she can get a PO from Target, WalMart, or Bed Bath and Beyond. Kevin asks Daymond to meet him at 35% and they do a deal!
RESULT: DEAL with Daymond for $50K for 35% equity.
BeverageBoy Shark Tank Update
The Shark Tank Blog constantly provides updates and follow-ups about entrepreneurs who have appeared on the Shark Tank TV show. It appears this deal never closed and the company went out of business sometime in 2017. As of August, 2021, Kevin is Director Of Business Development at ONE Cannabis Group.
Posts About BeverageBoy on Shark Tank Blog
BeverageBoy Company Information
Video