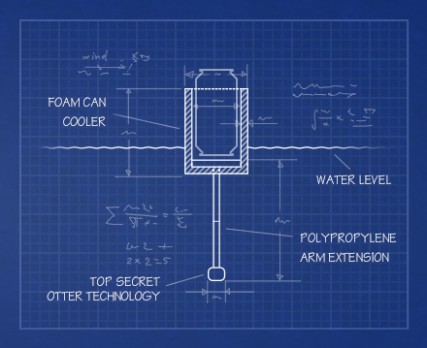 Kevin Waltermire wants to be an entrepreneurial super hero in Shark Tank episode 615 when he pitches BevBoy, a floating beverage holder. BevBoy the product is "named after the American River Otter Superhero, Beverage Boy, whose superpower is to make beverages float." Making beverages float might not be the coolest super-power out there, but it's an attainable super-power anyone can acheive with their own BevBoy.
BevBoy is a foam can cooler with a special secret: IT FLOATS! The secret to attaining this super-power is the arm extension on the bottom of the BevBoy; it acts as a counter balance and keeps a can upright while floating in the water. This lets you chill in the pool, lake, or ocean while your beverage of choice floats calmly nearby.
Super-power? Maybe. Cool? Definitely! The foam can cooler (or koozee) is a ubiquitous summertime item. It keeps a can cool and doesn't cause it to warm up with the touch of a hand. Making it float takes it to a whole different level.  Items like BevBoy are big in the promotional products industry, maybe Waltermire wants a Shark to get him in front of people who can sell into that space. If he has a patent, he'll have a leg up.
My Take on BevBoy
Like many people, I have a dozen or two koozees kicking around my house. Most of them are promotional items from trade shows with a company's message on them. I don't think I've ever bought one of these, but somebody had to pay for them. I might buy a BevBoy though, just because it floats.
I spend a lot of time at the beach every summer and there are always beverages in the cooler. On hot days, we've been known to float in the water using a boogie board as a makeshift bar. The BevBoy would eliminate the need for the boogie board, I'd just be concerned with how well it works when there are waves! I think BevBoy is a winner; this product is unique enough to strike a chord with Shark Tank fans, but will it net a Shark?
Do Sharks Float Some Cash for BevBoy?
Novelty items typically don't attract a lot of interest from the Sharks. As a business, they're too one dimensional. BevBoy could be an exception to that rule, as long as it's patented. Because it floats, it's a game changer; if Waltermire is the only one who can make this product, a Shark may be interested.
If the numbers are right, I could see Mr. Wonderful offering one of his royalty deals. I don't think Mark, Robert or Barbara would go for this, but Lori might if she thinks it's a "hero." The obvious play for Waltermire is some sort of licensing deal with a big promotional products company. If a Shark sees opportunity there, there could be a bid.
There isn't a heck of a lot of pre-show hype on the BevBoy's social media pages or website. That usually translates to "NO DEAL." Whatever happens, I think enough people will like this and order one (or two or six) when the segment airs.