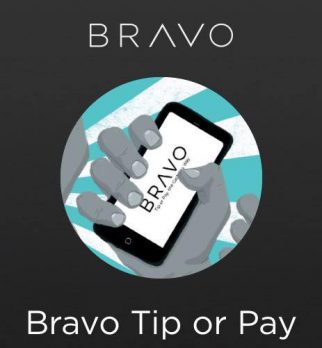 Dr. Hector Rodriguez and Maria Luna hope to tip off the Sharks when they pitch Bravo, their app which lets you tip service providers with your smart phone, in episode 914. The husband and wife team came up with the idea after they couldn't tip their hiking guide back in 2013. The couple has other businesses, but they're medical related as Hector is a gastroenterologist. They wanted a technology business and saw their problem as an opportunity.
Bravo app lets you tip and/or pay service providers that also use it. There is a GPS feature that shows users nearby providers. Anyone from a restaurant server to a tour guide can accept the app. Each user and service provider provides banking information to the app so they can pay or be paid, but no personal information gets exchanged.
Users pay directly from a credit or debit card and providers get paid directly into their account. Money arrives in 1-3 days. It's simple and it eliminates the need to carry cash. Bravo is free to use. They make their money through a 2 percent fee on each transaction. Bravo needs to scale and they hope a Shark will help them.
Will a Shark want an encore with this business?
Bravo Company Information
Video

Posts about Bravo on Shark Tank Blog
Bravo Shark Tank Recap
Hector and Maria enter seeking $150,000 for 5% of their business. They present their business and tell their story, then ask the Sharks if they have any questions. Maria has to explain that both people need to have the app to be able to tip and they provide sales materials for service providers. The company has 25% of service providers in Arizona using the app. The benefit is, it's more secure than Venmo or Paypal.
They've processed $1 million since the company started (3 years). The person tipping pays a 2% processing fee. When Maria starts talking about how the app does data aggregation, Barbara speaks up and says she's confused. Barbara is the first Shark to go out. Kevin thinks they'll need a lot more money than they're asking for; he's out. Alex thinks it's too complicated; he's out too. Lori says she and Mark will offer $150,000 for 15%. Maria counters with $150,000 for 10% plus 2% advisory shares. Mark says he'll do it if both he and Lori get 2% advisory shares. Maria and Hector discuss it and they take the deal.
Bravo Shark Tank Update
The Shark Tank Blog constantly provides updates and follow-ups about entrepreneurs who have appeared on the Shark Tank TV show. The deal with Mark and Lori never closed. In 2019, the company allowed payments with cryptocurrency. As of June, 2021, the company is still operating and has annual revenue of $2 million.
In September, 2021, the company re-branded itself to FAMIGO. According to a press release:
"FAMIGO's content creation platform provides independent artists full control of their brands by offering the same powerful suite of capabilities services that other platforms reserve for mega stars, including:
Subscription-based offerings with no minimums or maximums.
Direct paid messages and shout-outs.
Digital and In-Person VIP fan experiences.
E-Commerce sales of music, videos, podcasts, meet-and-greets, merchandise and more.
Global payment and service options.
Improved user experience making it easier for creators and fans to connect."
As of August, 2023, the company is still operating. Reliable revenue figuyres are unavailable.