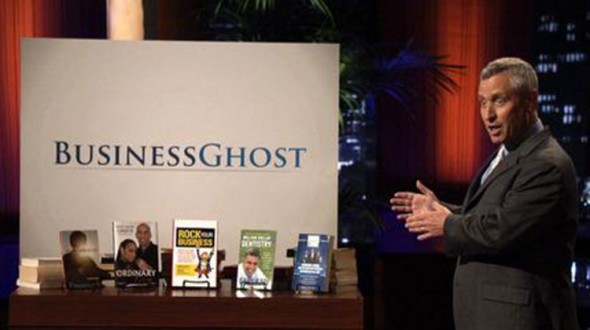 Author Michael Levin comes to the Shark Tank in episode 310 with his company, Business Ghost. Levin has been writing successfully for years, and has created a ghost-writing business that caters to financial moguls and other business-related companies. The ghost-writing service now has several employees and steady business, with impressive sales. Levin wants to expand and grow his company. Will the Sharks see the spark of potential in Business Ghost, or will they write this company off as an unprofitable venture?
Business Ghost Shark Tank Recap
Levin comes into the Shark Tank seeking a $200,000 investment in return for a 10% stake in his company. He presents his past work, which includes over 100 books, some of which have gone on to be adapted for television and movies. His books have appeared on the NY Times Best Seller list. He explains that he's a ghost writer, who "helps clients tell their stories from behind the scenes."
Levin has written for top CEOs, sports figures, and celebrities. He wants to build his brand to become the number one provider of ghost-written books in the US, but he needs the Sharks' expertise to make it happen.
Robert Herjavec wants to know how a ghost writer becomes a business that employs more than one author. Levin explains that he currently employs 8 writers to conduct interviews and write books, while a creative manager oversees their work and guides the process. An average book costs the client between $35,000 and $75,000, including a 50-100 copy first run. Levin believes he'll gross $650,000-700,000 in the current year.
O'Leary calls Levin's business "vanity publishing." Levin explains that his business is not about selling books, it's about creating books that his clients can then use to market their own expertise and businesses.
Daymond John wants to know why Levin has avoided the fiction and memoir market, which would open up a wider market. Levin explains that he's focusing on a niche market because he "puts his name on every book." He's focusing on quality, offering high-end clients a premium product at a premium price.
Who's In?
Kevin O'Leary sees his chances of getting a return on an investment as "a very difficult challenge." He's out.
Levin reveals that he needs the Shark's direction and expertise, calling himself the "classic example of an entrepreneur who has taken a business as far as it can go." Robert Herjavec is unimpressed. He tells Levin that you "can't offload the responsibility of coming up with the right strategy. The best salesman in your company, the guy who's responsible for coming up with a strategy, has to be you." He's out.
With two Sharks down Levin is floundering. Barbara Corcoran tells Levin that she thinks he's "tired of his business" and that he really should be going into a different business. She's out.
Daymond John says "I think that, if I invested my money into this business, getting my money back would be a mystery book." He's out. Only Mark Cuban remains.
Even though there's a lot that Cuban likes about the business, he wants to talk about the fundamental changes in the publishing industry. He says "if this were 1995, I probably would've invested," but with the publishing climate changing, he's out.
Levin leaves the Tank without a Shark Deal.
Business Ghost Shark Tank Update
Levin revealed in a later interview that the Shark Tank was an eye-opening experience for him. The Sharks challenged his self-image, and forced him to re-evaluate his approach to business. He needed to realize that he was already a serious businessman, and that his company was more than a side hobby, secondary to his work as a writer.
Today, the website is up and running strong. It appears that Business Ghost is alive and well, and that CEOs and celebrities can still pay Levin's team to write their stories and strategic business guides. The company was acquired by Advantage Media/Forbes Books for an undisclosed amount in 2016.
Posts about Business Ghost on Shark Tank Blog
Business Ghost Michael Levin Preview
Business Ghost Company Information