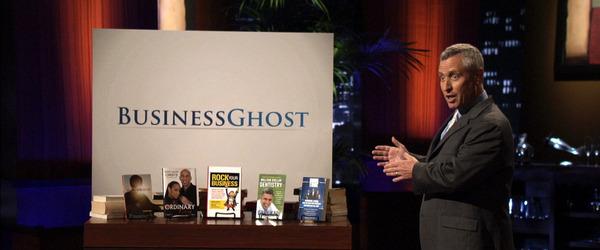 Business Ghost Michael Levin finds out what will happen when the Sharks here a pitch from a Ghostwriter?
Authority is everything and writing a book is one way to prove authority. That's where Business Ghost comes into play. A guy by the name of Michael Levin has a company that writes books for celebrities and others. They make it easy to get the job done when you don't know how to make it work.
Levin is appearing on the season premiere of Shark Tank and is pitching his company to the Sharks. When I first read the press release I had to ask myself why the Sharks would invest into a business that was not likely scalable and then after visiting his website, it started to make a little more sense. He has a team put together to write for other people who makes sense and he's got some great testimonials on his site.
After visiting, I'm thinking that he didn't put a deal together with the Sharks. My thinking is simply based on the website itself. It's decent, but not polished like I would expect on a business that made a successful deal with the Sharks.
The website itself is on a great platform, Genesis Framework by Studio Press  the same template system I use, but lacks little details such as the Genesis favicon still in place, instead of one that represents Business Ghost.
Another suggestion for this publisher would be to include the business name and address along with telephone number on each page of the site. Include it in the footer and then use Gravity forms for the contact form instead of the current setup.
Sorry Michael, you didn't do a deal with the sharks or your site would look more polished than it is now, but you do have an impressive number of testimonials and I'm sure you're good at what you do.
It will be interesting to see how close I am to the prediction I've made for one of the first Entrepreneurs to enter the Shark Tank in the season premiere.