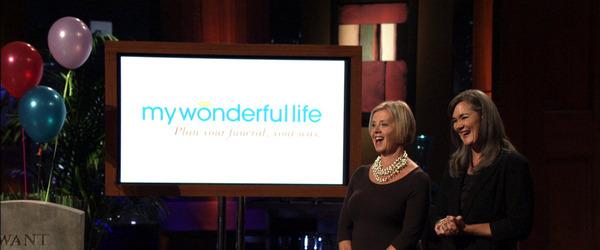 My Wonderful Life Preview showcases co-founders, Sue Kruskopf and Nancy Bush enter the Shark Tank in the season première on Friday night to pitch their online venture.
Entrepreneurs are often created when events impact our lives. We become so passionate about our circumstance that we feel the need to create a way to solve problems for other people experiencing the same situation. Nancy Bush experienced this when her husband, John Bush passed away a few years back.
The entrepreneurs note that funeral homes sell pre-packaged funerals but they are limited to the goods and services from the provider.  These packages don't provide a way for us to express our wishes properly and leave letters and memories for our loved ones.
According to the My Wonderful Life website, they give the service free of charge. No advertising exists on the site. If you click on the "advertise" link on the bottom of the site, it states that specs are coming soon and encourages you to call them for more information.
My Wonderful Life Preview – Revenue
As far as I can tell, the site has no revenues at all. Without revenues, I doubt that the Shark Tank investors are going to bite on this idea. It really depends on how many people they have subscribed and how they intend to monetize the list of subscribers.
At this point, this company really looks like a hobby business with no clear path to making money.
I just don't see this business doing well. This requires users to think about dying, which is something most people are afraid of. People who are already in this situation are likely to be focused on surviving not dying, like Nancy's husband was.
What I can see as the most promising opportunity is building private label sites for funeral homes. They offer this feature on their site, along with partner sites for Hospice, Hospital or assisted living centers.
This is a prime example of a business opportunity that doesn't need significant start-up capital. It needs sweat equity poured into the company. The business model should change slightly, focusing on selling leads in the geographic areas to funeral homes and other vendors. The current privacy policy doesn't allow this on their site, and therefore, they should change and then do a new list with the updated policy.
What do you think of the My Wonderful Life Preview?