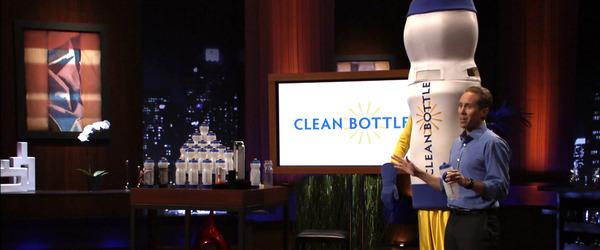 This Clean Bottle Preview  puts Entrepreneur Dave Mayer  first up on Shark Tank. His invention, "CLEAN BOTTLE" comes apart from both the top and the bottom making it extremely easy to clean his water container. The product targets bicyclist replacing the standard water container in the same mount. He donates 10% of all profits from  the company to charity, and guarantees the container for life.
Preview includes Bill Walton
Former NBA Star and Hall of Fame member, Bill Walton comes on Shark Tank to present with Dave Mayer giving him extra help with celebrity power. Other entrepreneurs will be entering the show with other celebrities.
Will Mark Cuban jump in with his dollars on this one? He's into sports and we'll have to see where it goes.
Dave Mayer's CLEAN BOTTLE has a great looking website which tells me he's doing well at marketing his products online. Google Search shows many sites linking in. He's using  YouTube to promote his videos on site at major cycling events.
In his videos he says his product is in major retail sporting good chains such as Dick's Sporting Goods among others. He's in merchant programs online leading me to believe he has the industry covered.  Could he be using it to promote his product and not really in need of investment?
Will the Shark Tank investors be impressed with his footprint? They may question why he needs their help. He's covered his niche well but the Sharks may want to see other markets where the product is able to scale into more volume.
Does the product have enough margin to make a reasonable profit for both investors and founder Dave Mayer? How can he take company to the next level making even more money? If the Sharks find another vertical market, will Dave be willing to run with it?
Mayer is clearly passionate about his product which is really great for getting off the ground, but sometimes can interfere with taking an investment to the next level. This episode promises excitement as Dave Mayer,
CLEAN BOTTLE and the Shark Tank Investors put a deal together.
We will give you an update after the Preview post.