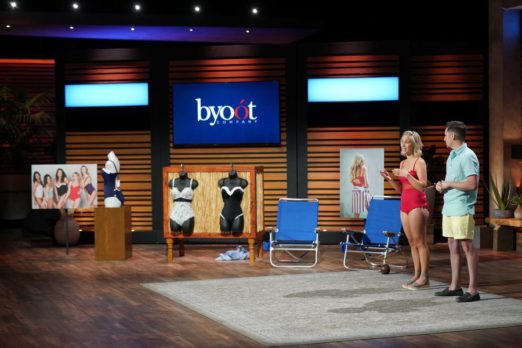 Elyce and Nathan Billany seek a Shark to swim with the Byoot Company, their innovative one piece womens' swimsuits, in Shark Tank episode 1214. Byoot – pronounced  "Bee-Yout" – was first envisioned by Elyce while on vacation in Jamaica. She was struggling to get her wet bathing suit off to use the restroom, a task many women liken to wresting with an octopus. She thought there had to be an easier way to get a one piece bathing suit off, so she went to work.
When she got back from vacation, she found a manufacturer in New York and started submitting designs. After months of trial and error, she found a suitable and functional design that both worked and looked good. Now, women can easily remove the bottom portion of their one piece swimsuit without taking off the whole suit. It works almost like a baby's onesie, except the buttons are on the back of the suit.
The suits come in about a half a dozen styles and cost $70-$85. Elyce is going to add more styles as time goes on. She offers "virtual fittings" on her website so you can order with confidence. The business got started with a successful Kickstarter campaign that raised $30,000 in August, 2018. She's still making the suits in New York and she's hoping a Shark will want to swim in her innovative suits.
Company Information
Video
Posts about Byoot Company on Shark Tank Blog
Byoot Company Shark Tank Recap
Elyce and Nathan enter seeking $50,000 for 30% of their business. Elyce tells how she came up with the idea as she hands out samples. They want a Shark's help with marketing and appropriate sizing. While the Sharks like the Billanys, only Kendra Scott makes an offer. She offers a $50,000 loan, to be repaid in three years. In exchange, she wants 5% equity. The Billanys accept.
Byoot Company Shark Tank Update
The Shark Tank Blog constantly provides updates and follow-ups about entrepreneurs who have appeared on the Shark Tank TV show. The first rerun of this episode comes just 2 months after the original air date. The company is still in business. In the immediate aftermath of the original air date, they completely sold out of product. There is no hard evidence whether or not this deal closed, but the company ran an unsuccessful Kickstarter campaign that only raised $1622 on a $35,000 goal. This probably means the deal with Kendra didn't close.
As of July, 2021, it appears the deal with Kendra did not close. Since airing, they've introduced Byoot bikinis and Elyce wrote a book about being an entrepreneur called Mama Bean has a Dream.