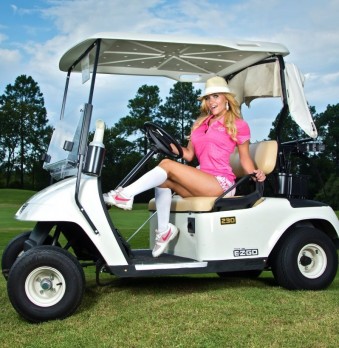 Meghan Tarmey hopes to be on par with a Shark when she pitches The Caddy Girls, her golf caddy service featuring sexy women, in episode 605. Tarmey started The Caddy Girls in 2005 after graduating from Coastal Carolina University; she didn't want to bartend to make ends meet and she wanted her own business.
The Caddy Girls operates in 13 markets nationwide (including Hawaii). They claim to offer "a unique and fun way to spend a day on the links." All the Caddy Girls are certified with the Professional Caddies Association and, in addition to being easy on the eyes, are well versed in club selection, course etiquette, calculating distance, and keeping score. Hiring one of the Caddy Girls will set you back $149 (plus tip) and they're available for tournaments, bachelor parties, and corporate events. As Meghan says: "We do the same thing a boy caddy would do, yet we look MUCH better doing it!"
Meghan is likely looking for a Shark to help explode the business worldwide. Will The Caddy Girls sink a deal with a Shark?
The Caddy Girls Shark Tank Recap
The segment opens at a Myrtle Beach golf course with some Caddy Girls assisting a foursome. She describes the service as a golfing montage plays in the background. Meghan wants to expand to every golf market in the country.
She enters the Tank in a golf cart with another Caddy Girl and asks for $100K for 20% of the business. She had $148K in sales last year and $34K in the previous month. Meghan explains the pricing for the Sharks: she charges $149 for a caddy and pays her girls $100. Robert wants to know why they get hired and she explains they do all the traditional caddy tasks. She says 4 girls are contracted for the PGA National Championships.
The business is growing and she justifies her half million dollar valuation. Lori sees a lot of problems with the business and goes out. Mark hates golf, so he's out. Daymond likes the concept, but he thinks there's too much work to do, and he's out too. Robert thinks they're still in the "hustle" stage, but he doesn't think it's investor worthy, he's out too.
Mr. Wonderful liked the presentation and offers $100K for 50% of the business. He thinks they could double the business. Lori says the devil would give her a better deal. Meghan counters with 40% but Mr. Wonderful refuses. Meghan thinks 50% is too much, so she declines the offer. NO DEAL.
The Caddy Girls Shark Tank Update
The Shark Tank Blog constantly provides updates and follow-ups about entrepreneurs who have appeared on the Shark Tank TV show. In the show's immediate aftermath, the business increased 400%. Over the years, they expanded to Arizona, Alabama, California, Connecticut, Florida, Georgia, Illinois, Massachusetts, Maryland, Minnesota, Mississippi, North Carolina, New Jersey, Nevada, New York, South Carolina, Tennessee, Texas, Virginia and Washington. They will also travel to states where they don't have a physical presence with two weeks notice.
Since 2015, the company has supported the FAM Foundation, an organization whose "purpose is to inspire, educate and empower women through mentorship, guidance, and volunteering." They also support Project Genesis, a group that  "supports over 120 children living in extreme poverty, providing them with basic needs, education, mentoring, health care, and vocational programs" and the Luz de Maria Orphanage.
They added trade show booth models, brand ambassadors and influencer marketing to their services. As of November, 2022, the company is still in business with annual revenue of $13 million.
Posts About The Caddy Girls on Shark Tank Blog
Company Information
Video