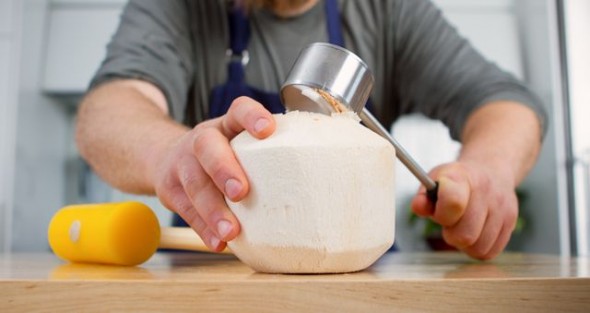 Dave Goodman hopes the Sharks get jacked about Coco Jack, his handy invention for easily opening Thai Coconuts, when he pitches it in Shark Tank episode 618. Goodman created the Coco Jack after selling his New York City apartment and traveling around the USA. He funded the first production run with an Indie GoGo campaign that raised $5,775 in December, 2013.
Coco Jack is essentially a mallet and a striking ring. Put the ring on top of the coconut, whack it with the mallet, and a "perfect" hole is created at the top of the coconut. This allows you to get the coconut milk without any waste. Goodman also sells a patented "scooper" that removes the coconut meat effortlessly.
Thai coconuts are a super food, very high in Lauric acid, Chloride, Iron, Potassium, Magnesium, Calcium, Sodium, and Phosphorous. Opening them is a challenge, which is why Goodman invented Coco Jack. There are other coconut openers on the market, but they involve drilling. Coco Jack is easier and more straightforward than other openers on the market.
The Coco Jack Pack sells for $49.95 and includes the mallet, the Coco Jack, and a scooper. Goodman currently sells his products online, but he's likely looking to get into retail outlets – with a Shark's help. Will a Shark go (coco) nuts over this invention and invest?
Coco Jack Shark Tank Recap
Dave enters seeking $125,000 for 15% of the business. He demonstrates the "old" way of opening coconuts – what a mess! Then he does it with his invention – much easier. Robert and Mark come onstage to try it and they are successful.
Next he breaks out the scooper and Robert thinks that's more impressive than the Coco Jack. Kevin inquires about the laxative effects of coconut milk and asks Dave to give some more to Barbara. Dave explains his varied history; Mr. Wonderful wants to know how he makes money. Dave has $325K in 9 months of sales – but he's been thinking about the product for 12 years. He thought it was a small product, but people told him it could be big!
Barbara thinks Dave is not organized, she's out. Lori loves the product and thinks he'll do well, but she's out. Robert likes the idea and the uniqueness of the product, but he's out too. Mr. Wonderful grew up in Cambodia and saw how they were trimmed, he likes coconuts and offers $125K for 50%.
Mark likes the product and asks if Dave can focus on one thing at a time. He offers $125K at 7% convertible debt to 25% equity. Dave counters Mark and asks if he'll go to 20%; Mark says no. Dave decides to do the deal with Mark!
RESULT: DEAL with Mark. Mark loans Dave $125K at 7% interest which converts to equity when the business is profitable.
Coco Jack Shark Tank Update
The Shark Tank Blog constantly provides updates and follow-ups about entrepreneurs who have appeared on the Shark Tank TV show. The deal with Mark never closed. In 2016, the company reached an agreement with Malibu Rum to use their branding on their packaging. There were many knock-offs brought to market through the years, which drove the price down on Coco Jack. As of August, 2021, the company website is down, but the products are readily available on Amazon. Lifetime sales are $5 million.
As of January, 2023, social media hasn't been updated since 2017 and the website is still down. On Goodman's LinkedIn page, he still lists the company as "open" and he refers to Coco Jack as a "global enterprise." The products are also no longer available on Amazon, but there are dozens of similar products.
Posts About Coco Jack on Shark Tank Blog
Company Information
Video