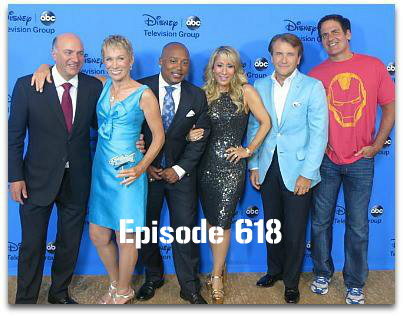 Shark Tank episode 618 features 4 new businesses, all of which make their products in the USA. They'll pitch the wealthy Shark panelists on their companies and hope they get an investment to help grow their businesses. George Conway looks for an investment in BedRyder, an extra set of seats that goes into a pick-up truck bed. Dave Goodman hopes to crack up the Sharks with Coco Jack, an invention that easily opens coconuts. Kate Steadman and Sharon Bui pitch Frill Clothing, their line of sorority themed clothes they want to grow into a bridal clothing line. Michelle and Jason Barsosky show off the Twin Z Pillow, a 6-in-1 pillow for pregnant and nursing moms.
Will one of these made in America businesses be the next Shark Tank success story?
12 year old Moziah Bridges didn't get a deal in episode 522 in season five, but he did endear himself to the Sharks and Shark Tank fans. Daymond John offered to mentor the young entrepreneur, and in the episode 618 update segment, we'll see how Mo has fared in a year's time.
There are 28 Shark Tank Episodes for Season 6. This season features two new Sharks and a host of other surprises. Casting is currently closed, but it never hurts to get a head start on season six! If you would like to appear on the show, check out our Auditions and Casting information.
Episode 618 – The Shark Investors and Entrepreneurs
The Shark Tank Episode 618 entrepreneurs will make their best pitch to the panel of five Shark investors who will use their own money if they choose to invest. The Shark Investors negotiate on the spot without any previous information, which differs from typical negotiations between venture capital investors and entrepreneurial start-ups.
Companies pitching the Shark Investors must go through a rigorous due diligence process before an on-air deal is completed. Shark Tank Blog follow ups help you keep track of the companies that end up successful and the ones that don't complete their deal.
Thank you for reading SharkTankBlog, the number one site for Entrepreneurs, Investors and Fans. Our content updates multiple times day, giving you the latest information on Episode 618, Season 6, and all other seasons and episodes.
Episode 618 Press Release
IT'S ALL MADE IN THE USA — BUT WHAT WILL GET A DEAL? FIND OUT ON THIS WEEK'S "SHARK TANK"

"Episode 618" – Everything is made in America on this week's episode. Two young women from Garner, NC model off their pretty, custom recruitment clothing for sororities which is expanding into a bridal line—but will the Sharks "rush" to make a deal? Also, a native New Yorker showcases his simple tools that easily open a Thai coconut and extract the meat; a salesman from Chattanooga, TN touts the invention that can transform any pickup truck into what he calls "a Truck-U-V," by adding seats in the flatbed to accommodate more passengers. In a follow-up segment, teenager Mo Bridges from Memphis, TN gives an update on his Mo's Bows designer bowties from Season 5, on "Shark Tank," FRIDAY, MARCH 6 (8:00-9:00 p.m., ET) on the ABC Television Network.

The Sharks in this episode of "Shark Tank" are Mark Cuban, Lori Greiner, Barbara Corcoran, Robert Herjavec and Kevin O'Leary.