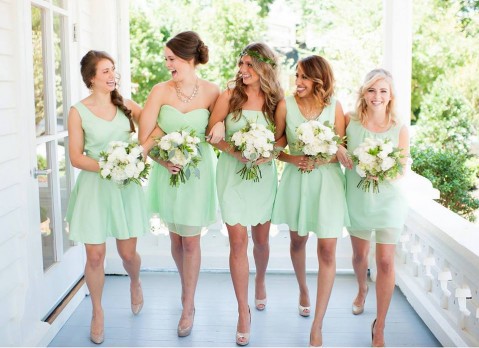 Kate Steadman and Sharon Bui hope to find a perfect fit with a Shark when they pitch Frill Clothing, their line of clothing and accessories, in Shark Tank episode 618. The pair started their business in 2012 to serve the Greek community – specifically sororities – by supplying custom, sorority themed dresses. They called their original concept "recruitment wear," since sorority girls want a unified look for their recruits.
They've since grown into bridal wear and "everyday" dresses, tops, and accessories and now provide a full clothing line. Their business is strictly online and the dresses and skirts sell for $40 to over $100. To order a dress, girls pick a style and fabric on the website, send in their measurements, even accessorize it with monograms, and Frill Clothing creates and ships the dress. Frill Clothing makes all their clothing in the USA and they donate a portion of their proceeds to the Make a Wish Foundation.
The girls want to grow their bridal line, so they can grow their market. They may also have designs on a shop of their own. Will a Shark get a thrill from Frill Clothing and invest?
Frill Clothing Shark Tank Recap
Kate and Sharon enter singing a song and ask for $100,000 for 20% of the company. They explain the tradition of matching clothing during sorority rush week. Frill guarantees no other sorority will have matching clothes. They explain there are over 3,000 sororities in the US and Canada.
Lori asks about margins. A skirt they makes for $24 sells for $60. They've done over $400K in sales in three years and they explain how they are opening a bridal line. Typical sorority girls spend $500 on rush week clothing. They only have 1 competitor. They want the cash to lower production costs.
Mark goes out quickly. Barbara offers $100K for 33% of the business. Mr. Wonderful matches Barbara's offer. Robert loves the market and the girls; he offers $100,000 for 20% – exactly what they asked for.
After a break, Robert wants an answer. Barbara and Mr. Wonderful team up on their offer and Barbara touts her success with Grace and Lace; Kevin thinks they need to accelerate quickly. Lori wants to make an offer but says Robert would have a heart attack!
The girls ask Barbara and Mr. Wonderful if they'd go to 30% and they say yes, they shake on a deal!
RESULT: DEAL with Barbara and Mr. Wonderful for $100K for 30% equity
Frill Clothing Shark Tank Update
The Shark Tank Blog constantly provides updates and follow-ups about entrepreneurs who have appeared on the Shark Tank TV show. We conducted an interview with Sharon and Kate to get an update on their progress. They'll also be featured on Beyond the Tank episode 104. Read about more of their progress HERE.
The women sold the business in 2016. Bui works as a software project manager at Lenovo and Steadman is a real estate broker in the Raleigh Durham, NC area.
Posts About Frill Clothing on Shark Tank Blog
Frill Clothing Company Information
Video