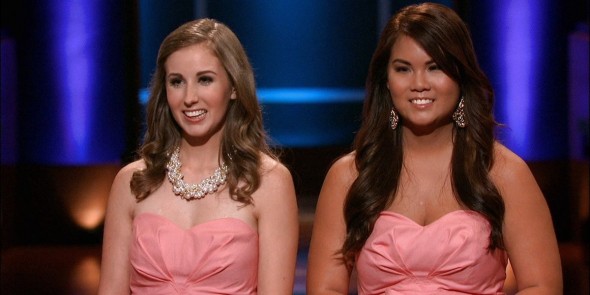 I spoke with Sharon Bui and Kate Steadman via Skype recently to get a Frill Clothing update on their business' progress since they aired on Shark Tank episode 618. The two young women accepted a $100,000 investment from Barbara and Mr. Wonderful for 30% of the business. Their deal is nearly complete with the two Sharks and, since they aired, their business has evolved.
Frill Clothing Origins
Sharon and Kate originally met in the third grade, but they went to different schools. They got reunited during a college internship while Kate was attending Appalachian State and Sharon was attending NC State. During their time as fashion interns, Sharon focused on marketing and Kate on production. "We knew our strengths then," Kate says, "and we continue to compliment each other with Frill Clothing."
"The first year of business was basically me ordering skirts for my sorority for recruitment week, Sharon adds, "My sisters liked my style and they trusted me. It was really just a side thing. I designed skirts in coral with bows."
"The photos of the dresses went viral on Pinterest," Kate adds. "We basically went from a 'side thing' to a national company because of social media. Our generation grew up with social media, so it was natural for us to extend it into our business. Once the photos went viral, we got hundreds of emails and calls, we couldn't keep up with it. We were using private seamstresses at the time and we still couldn't keep up with the orders. We were in a weird position because we were too small for a factory and too big for doing piece work with private seamstresses. "
"Eventually, we found a private factory that was making bow ties and they made our dresses for us. Since we were overspending, we decided to hire seamstresses and move production in-house. Now, when we make dresses for sororities, we over produce so we have excess inventory."
"We basically bootstrapped until year three," Sharon says."I couldn't ask my parents for money – they paid for half my education. I didn't even tell them what we were doing at first because I come from a traditional Asian family. They wanted me to graduate and get a good job."
"My parents were supportive," Kate adds, "but they wanted me to get a full-time job until it was a viable business. By senior year, both of us realized we didn't need jobs."
Had Kate and Sharon NOT started Frill Clothing, Kate explains she "would have been in apparel somehow, focussing on design." Sharon said she "wanted to be Lauren Conrad and Whitney Port from The Hills. I wanted to be a designer like them!"
Shark Tank Frill Clothing Update
Kate confessed to being a casual Shark Tank fan. "I end up feeling bad for the people on the show when the Sharks attack." Sharon was the impetus for Frill Clothing getting on the show. "I'm a BIG fan," she exclaims. "I BEGGED Kate to apply."
"I had no doubt we'd be successful," Kate adds, "I just wanted to go on for the right reasons."
They went the "traditional route" getting on the show: they sent an application, got asked to send a video, and were eventually invited to LA to tape a segment. They taped with Sticky Ties, Luminate, Gold Rush Nugget Bucket, Emergensee, and Coffee Meets Bagel. I asked the girls if they used Coffee Meets Bagel and if they had "significant others."
Kate replied first: "I have a boyfriend I've known since we were both 16 – we worked in a cafe together in high school. We've been dating four years. He's a financial adviser and a really good listener who's very proud of both of us."
Sharon quipped: "I'm accepting applications!"
Obviously, Mr. Wonderful and Barbara liked what they saw in the young women.
"Working with both of them has been great," Kate says. "Kevin is so much nicer in person than he appears to be on TV. I think he's very kind and has a good heart, but don't get me wrong – he doesn't beat around the bush when it comes to business."
"Barbara," Sharon adds, "is very real. She says what's on her mind and doesn't hold back. I enjoy working with her."
In addition to meeting the Sharks, Sharon and Kate met the Hold Your Haunches gals and the people from Grace and Lace. This allowed them to see the power of the Shark Tank first-hand.
"Before we went on the show," says Sharon, "we had a PR firm. Now we have Sharks. The difficulties we had sourcing production in the early days are gone, now people come to us."
"All the production is outsourced to contract manufacturers now," Kate explains.
Frill is also out of the bridal business – for now. "We're a one-stop sorority shop," says Sharon. "In addition to recruitment dresses, we have shirts, gifts, and we sell our excess inventory on our website. We're also rolling out a college ambassador program to get more interest and do some cross promotion."
What's next for Frill Clothing?
The women were featured in a Beyond the Tank promo at the end of season six, but they didn't air in the initial three week run. The show returns on Tuesday, September 29, but Kate and Sharon don't know when they'll be on.
"We only found out our air date a few weeks in advance," says Kate, "and we were told we'd get the same kind of notice for Beyond the Tank."
While they could confirm they taped a segment, their non-disclosure agreement with SONY and ABC prevented them from going into further detail about the content of the episode. THAT means there will be a few more surprises when the Frill clothing Update segment airs!
Between now and then, Kate and Sharon are planning on enjoying some brief down time.
"January through May is our crunch-time," says Kate, "but we plan on taking a little time off this summer while schools are out."
"We're going to California for a production meeting," Sharon adds, "and we're hooking up with our Shark Tank film crew for a get-together. In the summer we have TONS of interns working for us and we want to give them a good experience like we had in our internship. We wouldn't have Frill Clothing without that internship."
Both Sharon and Kate are avid Insta-grammers. You can keep up with them and Frill clothing here:
These two young women have a bright future ahead of them. Their business is growing and they have Sharks helping them navigate the waters. Before we ended our Skype session, I had one more question for both of them. They answer it on The Hot Dog Truck.