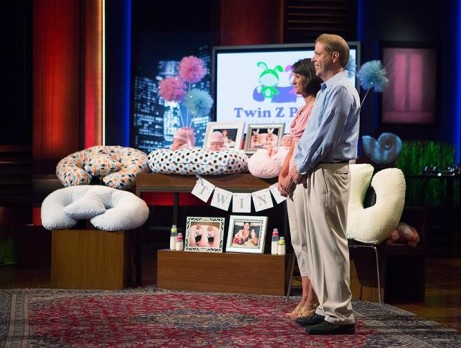 Michelle and Jason Barsosky are looking for a feeding frenzy when they pitch the Twin Z Pillow, a breast-feeding pillow designed for twins, in Shark tank episode 618. Michelle got the idea for the Twin Z Pillow when she gave birth to twin girls. She and Jason had their hands full and when he wasn't around to help, she had difficulty supporting her little angels while she fed them. After searching far and wide for a product that solved her problem, she realized there wasn't one. That's when she made the first Twin Z Pillow for herself.
Before long, Michelle decided she was on to something. She patented her idea and made the Twin Z from the best materials in the USA and before long, the product was a hit. The pillow supports infants while breast or bottle feeding, acts as a tummy pillow, provides added support for moms who had C-sections, and more. Moms to be can even use it as a pregnancy pillow before baby is born.
Michelle and Jason sell online and they're on Target's website, too. They have an international customer base and the product has great reviews from moms everywhere. The Barsoskys are likely looking for capital to expand their retail presence, with a little help from a Shark.
Twin Z Pillow Shark Tank Recap
The segment opens with an "at home" segment where the Barsosky's tell their story. They started the business when Jason and Michelle were laid off from their pharmaceutical sales jobs and they "took a leap of faith." Michelle and Jason enter seeking $75,000 for 10% of the company. Michelle explains it can take 12 hours a day to feed twins! The Twin Z Pillow can cut feeding time in half.
Mr. Wonderful gives the "subset of a subset" objection. The Barsosky's say they've done $510K in sales this years. Mark likes how they "went for it" and loves the Barsosky's, but the business isn't a fit for him – he's out. They tell Robert they need the money to fulfill a large retail order and he thinks they should stay online. Barbara and Lori disagree. Mr. Wonderful offers $75K with a $10 royalty per unit until he recoups 3 times his money, then retains 2.5% equity. Robert offers the same as Mr. Wonderful, but he wants a 10% royalty until he gets 2 times his money back.
Lori tells the Barsosky's to put those offers in their "mental shredder." She offers $150K with a $5 royalty until she recoups her investment, then she retains a 5% stake in the company. Barbara offers $75K for 20% and thinks they should be in retail. Kevin proposes he and Robert team up offering $75K each with the 2.5% equity kicker after the royalty is paid over. Mark advises against royalties.
Lori wants Barbara to join her but Barbara says no, Lori then matches Barbara's offer. Barbara goes to $75K for 15%, Lori matches it. Robert and Kevin go to a $7.50 per unit royalty with a 2% equity kicker. The Barsosky's need to decide and they choose Lori!
RESULT: DEAL with Lori for $75K for 15%
Twin Z Pillow Shark Tank Update
The Shark Tank Blog constantly provides updates and follow-ups about entrepreneurs who have appeared on the Shark Tank TV show. The deal with Lori never closed. Shortly after appearing in the Tank, the company added a nursing pillow for a single baby and something called the SleepZ Pillow which helps kids fall asleep faster. The business is still up and running as of August, 2022 . Annual revenue is $1 million.
Posts About Twin Z Pillow on Shark Tank Blog
Twin Z Pillow Company Information
Video