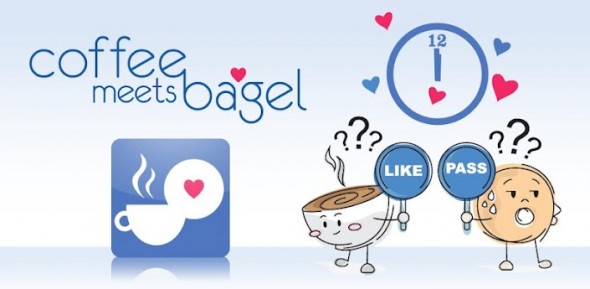 The Kang sisters, Aram, Da Woon, and Soo, pitch Coffee Meets Bagel, their dating app that leverages people's Facebook friends, in Shark Tank episode 611. Coffee meets Bagel operates on the assumption that friends, and friends of friends, are the best sources for quality dates.
When you join and download the app, each day at noon you are sent a potential date (bagel) based on your network of Facebook friends. You have 24 hours to decide whether to "like" or "pass" on this person. If both people click "like," they get connected via SMS through a temporary phone number that expires in one week. Coffee Meets Bagel keeps things private and at arm's length until the two parties decide to take the next step and meet.
To date, the free app boasts 100,000+ monthly users. The Kangs likely want a Shark to help with monetization and to expand the app's reach.
Will the Sharks "like" or "pass" on Coffee meets Bagel?
Coffee Meets Bagel Shark Tank Recap
Aram, Da Woon, and Soo open the segment in their office. They tell how they immigrated from Korea as teens and how their dad worked hard to make sure they got good educations. They all left high paying jobs to start their business.
In the Tank, they ask for $500K for 5% of the company. The questions fly after they explain the concept. The Kangs reveal they lost $1 million on $1 million in sales, all while taking $100K salaries. This doesn't sit well with the Sharks and they go out one by one. Mark comes back in right before a commercial break and asks if they'd take $30 million for the entire company. When they return from the break, the Kangs say no and gain Mark's respect (but not his money).
RESULT: NO DEAL
Coffee Meets Bagel Shark Tank Update
The Shark Tank Blog constantly provides updates and follow-ups about entrepreneurs who have appeared on the Shark Tank TV show. This is a deal the Sharks missed out on big time. In February 2015, the company secured a $7.8 million Series A financing round led by existing investor DCM Ventures. In May 2018, the company raised another $12 million in Series B funding led by Atami Capital. Between late 2017 and mid-2018 they had a data breach where the details of of over 6 million customers were compromised. Despite all of this, this app continues to be the top dating app for millennials. As of July, 2023, they are still in  business and earning $16 million annually. The company is valued at $150 million and boasts it has made 2.5 billion introductions.
Posts About Coffee Meets Bagel on Shark Tank Blog
Company Information