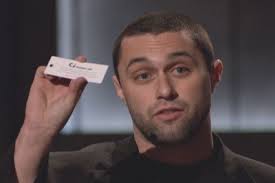 Craig French brings his Crooked Jaw clothing line to the Sharks in episode 102. French created the brand after a college lacrosse accident left him with a broken jaw. He designed the line while he was still in college, and has started marketing it through direct sales online and in a small local retail location. French feels that the Sharks' expertise and distribution channels are what his company needs to take off. He's poured a lot of time and effort into creating a clothing line that will appeal to sports enthusiasts, especially in the world of mixed martial arts.
Will the Sharks get on a kick with French's Crooked Jaw line, or will they give him the boot?
Crooked Jaw Shark Tank Recap
French comes into the Shark Tank looking for a $200,000 investment, in return for a 20% stake in his company. He's accompanied by several models sporting his clothing line. The Sharks smile politely, but it's clear none of them are immediately blown out of the water. French has a big job ahead of him, to convince the Sharks he's a big enough fish to swim with them.
French explains that his brand is targeting the growing MMA audience. He believes that the interest in MMA sports will make a niche for his clothing line. The Crooked Jaw clothing line is in 10 mom and pop style skate shops on Long Island, where French lives, and has sold 1,500 units in the past year.
Robert Herjavec loves the story, and loves one tee shirt in particular, which French gives him. Daymond John zeros in on the basics. He calls French a small player and asks about orders. French explains that they've gone to one trade show, but came out without any orders. John is not impressed with the sales and track record so far. He says he doesn't want to be harsh, but that the brand needs either a talent attached to the brand, or a retailer guaranteed to sell the merchandise.
John says "All you've done is manufacture something. I can do that. You need a following."
Robert Herjavec is out upon learning that they've sold $5,000 worth of product in the last year. Kevin Harrington is close behind, due to the low sales. Barbara Cocoran asks Daymond John if he's willing to invest in this clothing line, which seems to come from similar roots as his own empire. There's a long, tense moment, before John says "Right now, you're a nobody to everybody. And because of that, I'm out."
With the clothing kingpin out of the deal, Cocoran is out as well. Only Kevin O'Leary remains. Mr. Wonderful loves French's story, but he says he "can't give you my money, because I can't see how I'm going to get it back with more there. It's all about investing." He adds, however, that he loves the clothing, and asks if he can buy a piece of it. French gives it to him, as a gift, before leaving the stage, without a Shark deal.
Crooked Jaw Shark Tank Update
French is obviously disappointed with the outcome of his venture. Surprisingly, the Sharks didn't attack his valuation on his company, but it's clear that his lack of sales and traction thus far in the market were deciding factors that worked against him.
Without a Shark deal, and in spite of the appearance on the show generating over 500,000 visits to the Crooked Jaw website, the brand never took off. Crooked Jaw clothing became one of the many small businesses left adrift when the Sharks leave them without a deal. The company went out of business in 2015.
Posts about Crooked Jaw on Shark Tank Blog
Crooked Jaw Shark Tank Follow Up
Crooked Jaw Company Information