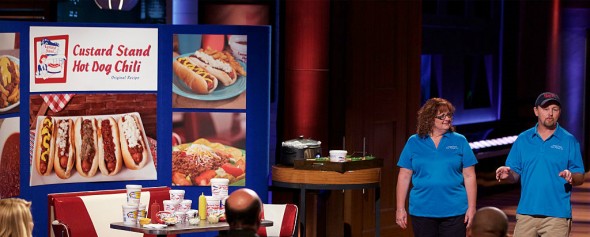 "Hotdogtrepreneurs" Dee & Angie Cowger hope the Sharks like Custard Stand Food Products, their line of all-beef chili and chili soup, when they pitch in Shark Tank's "Made in America" special, episode 718. The Cowgers opened their first hot dog stand, called The Custard Stand, in 1991. They were slinging hot dogs and selling ice cream in the town of  Webster Springs, West Virginia for over a decade and their family recipe chili sauce was a huge hit with patrons.
After years of customer requests, the Cowgers began packing and selling their chili in 2003 from a car wash behind their stand they converted to a USDA approved production facility. Since then, they opened a second store in Flatwoods, WV and have a franchisee operating 4 other locations in Danville, Elkins, Mannington and Oak Hill, West Virginia. Their business is growing on both ends: their chili is available in 15 states in the mid west and southern east coast at Kroger, Wal-Mart, Sam's Club, IGA, and dozens of mom and pop shops. They even sell their chili to other food establishments.
The chili is a meat based hot dog topping (no beans), in the style of a Coney Island Sauce (or a Michigan sauce or a Texas Weiner sauce depending on what part of the country you live in. A typical West Virginia style hot dog is a wiener (or frank) on a steamed roll that gets topped with chili, coleslaw, onions, and mustard; some people also add cheese. Some West Virginia hot dog aficionados find Custard Stand Food Products on the mild side, but it's better to be too mild than too hot: you can always spice something up – you can't spice it down!
The Cowgers are likely looking to get a Shark to help them expand their production capabilities (currently 4000 pounds a day) and grow into a national brand. With a Shark take a stand on Custard Stand Food Products?
Custard Stand Food Products Shark Tank Recap
Dee and Angie open with an at home segment. They were grade school sweethearts and they have 3 kids one grandchild with another two on way. They opened the Custard Stand 24 years ago. The place has a hometown feel customers love. The chili is their most popular product. They want an investment from the Sharks to be a national business.
The couple enters seeking $400K for 10% of their business. They tell the story of their restaurant. Chili dogs are the top seller. The recipe is from Angie's grandma. It's all beef, with no fillers or additives and Angie says "you can pronounce every single ingredient on the package."
They hand out chili and explain that it has no beans, but the chili soup does and it has more heat. They did $1.6 million last year, profiting $217K by selling in regional stores. They have a somewhat regional product, but they want to be a national brand.
Daymond likes the chili but is concerned about the $400K. He says they need to do Rand D to keep the integrity of their product, they need to roll out stores and advertise, too. He thinks $400K isn't enough. He's out. When the Cowgers explain they have $700K in debt, the Sharks moan. $300K of the debt is for their store, $400K is on the chili business.
Lori says they are doing a great job, but she likes spicier chili; she's out. Robert thinks they are killing it, but it's challenging to roll it out nationally; he's out. Kevin says a big player would pay $1 million for their business; he thinks it isn't worth $4 million; he's out.
Mark says they are multi millionaires and everyone wants to be "that couple." Mark applauds them, but there are too many moving parts; he's out. In parting, he tells the Cowgers "you are everything that everyone who watches this show aspires to be." In the hall, they are disappointed but say they will draw strength from it.
RESULT: NO DEAL
Custard Stand Food Products Shark Tank Update
The Shark Tank Blog constantly provides updates and follow-ups about entrepreneurs who have appeared on the Shark Tank TV show. While the Sharks didn't bite, the show's impact on Custard Stand Food Products and the outpouring of support have been astounding. More than 200 people watched the episode with the Cowgers at The Custard Stand's Webster Springs location. Thousands  called, texted, emailed, and posted on social media to show support. Best of all, online sales have increased 5,000% (and counting!).
They're selling in grocery stores too. In May, 2022, they rolled out in 600 Kroger stores in Alabama, Georgia, Illinois, Indiana, Kentucky, Michigan, Ohio, South Carolina, and Tennessee. This represents a 500% increase in their retail presence.
As of May, 2022, this business does $15 million a year in revenue.
Posts About Custard Stand Food Products on Shark Tank Blog
Custard Stand Food Products Company Information
Video