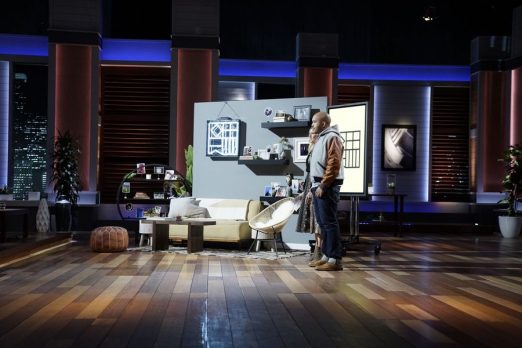 Savannah Cowley and Samuel Agboola seek and investment in Flag, their free photo printing app, in Shark Tank episode 823. The app ships free, high quality photo prints to "customers," but the photos have advertisements on the back. They claim the photo paper is higher quality than what others offer, and it's still free.
Flag got started back in February, 2014 with a successfully funded Kickstarter campaign that raised $169,187. Since then, there were numerous delays in rolling out the final product. The app finally launched in June, 2016 – more than two years after the Kickstarter funded.
To make the model work, they needed advertisers. So far, they have over 1,500 paying advertisers including  SquareSpace and VISA. In exchange for free photo prints, users have an ad on the back of their photo. It's literally an ad nobody will throw away. Flag doesn't sell names, addresses, or any other kind of user data, but they do share your photo's EXIF data, zip code, and the contents of your photo with advertisers. Presumably, they can estimate your income, interests, and where you spend your free time.
They likely need cash to roll out their launch more extensively. Will a Shark take a flyer on this business?
Flag Shark Tank Recap
Savannah and Samuel enter seeking $375,000 for 5% of their business. They explain their business and hand out sample photos. Mark wants to know why companies like Shutterfly haven't tried this if it's such a good idea. Sam said it's because he uses laser printers and Shutterfly does not.
Savannah says they've sold $150,000 in advertising in the past three months to big companies like Visa. They've also sent out over 800,000 or more photos in that time. When Sam tells them he raised $1.6 million, the Sharks are shocked. Kevin and Mark don't think it's proprietary and Mark asks why they need $375,000 if they raised $1.6 million.
When Sam mentions they are raising another $3 million, things start to fall apart. Barbara goes out. Kevin questions whether advertisers will return and goes out. Lori followed saying she'd been burned by a similar product before, she's out. Mark said they have too many balls in the air, he's out. When Sam says customers only get the first 20 prints free, Chris Sacca loses it. He goes out, stating that he doesn't  do deals with businesses that"engage with out of touch advertising and were burning cash."
Flag Shark Tank Update
The Shark Tank Blog constantly provides updates and follow-ups about entrepreneurs who have appeared on the Shark Tank TV show. Shortly after appearing on the show, they did a second Kickstarter that raised $331,949. Shortly after that, the business went dark and the app left the app store. In May, 2021 they still haven't delivered anything and there are over 1500 angry comments on the Kickstarter page. Most are along the lines of "Any updates on unstealing our money?" Many are calling this a scam and I am inclined to agree. As of March, 2022, this business is done.
Posts About Flag on Shark Tank Blog
Flag Company Information
Video