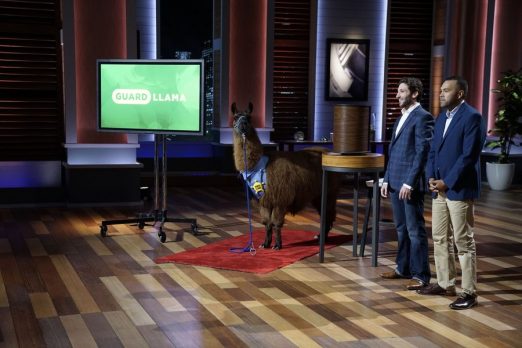 Joseph Parisi and Nick Nevarez hope to secure an investment for Guard Llama, their smart phone app-enabled personal security device, in Shark Tank episode 823. Parisi got the idea for the product after a murder on his college campus. He realized the victim had her phone with her, but probably not the time to use it.
Guard Llama is a key fob sized device that pairs with your smart phone. Once the button gets pushed, a message goes straight to the police with your location and description. There's no need to dial 911. The company got its name from actual llamas that will protect their flock with aggressive kicks and a loud, screeching sound.
Parisi sees the product as a safety device for realtors who often meet strangers in empty homes. Anyone who wants some added security will want the device. Customer need to buy the fob, then subscribe to the service. There's the basic plan for $2.95 per month that works when your phone is on. The premium plan for $9.95 per month works within 150 feet of your phone whether it's on or off. The family plan bundles four premium plans for a monthly price of $29.95 – ten bucks cheaper than buying individually.
Parisi and Nevarez likely want a Shark's help to scale up rapidly. Will a Shark think this is a safe investment?
Guard Llama Shark Tank Recap
Joseph and Nick enter seeking $100,000 for 5% of their business. They explain that llamas are docile in nature but can become very aggressive when predators approach – just like their device. They hand out samples and Chris Sacca quips he thought he was getting real llamas.
They explain the device will work within 150 feet of your phone. At the time of taping, they had around 2000 active users paying $10 per month or $100 per year. They partnered with the National Association of Realtors to distribute the devices to realtors. Once the button is pressed, the service calls you, if you don't answer, they call the police.
Mark is concerned a malfunction could cause liability, he's out. Lori goes out too, citing the same concerns. Kevin doesn't like the valuation but makes an offer. He offers $100,000 for 5% but he wants a $5 royalty on every sale until he recoups his money. Sacca thinks it's too hard to scale, so he's out. Barbara offers a $100,000 loan – interest free – with a $2 royalty until she recoups her money for 20% of the business. They haggle on the percentage and eventually do the deal with Barbara for 18%.
Guard Llama Shark Tank Update
The Shark Tank Blog constantly provides updates and follow-ups about entrepreneurs who have appeared on the Shark Tank TV show. The deal with Barbara never closed. That's probably good for Barbara as Joseph Parisi turned out to be a druggie. Police seized 600 grams of ecstasy, 7 grams of mushrooms, cocaine and 65 grams of weed from his home. This occurred in the fall of 2019. In February, 2021, Parisi was indicted for drug trafficing and is defending himself in court. As of May, 2021, the company is still in business, presumably without Parisi at the helm. By the end of 2021, after numerous complaints about the company not allowing customers to cancel the service, the company went out of business. Parisi is still awaiting a trial as of August, 2023.
Posts About Guard Llama on Shark Tank Blog
Guard Llama Company Information
Video