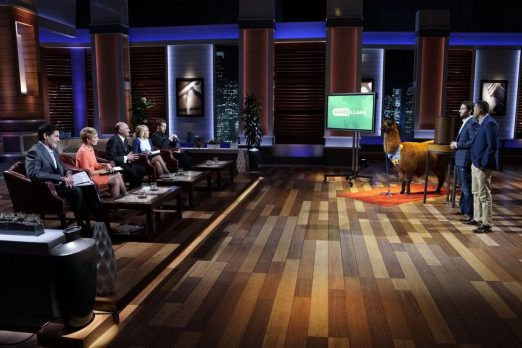 Joseph Parisi invented GuardLlama after a young woman on his college campus was murdered. He realized that, while she probably had a phone with her, she didn't have the time to use it. When someone is in danger, seconds count. People won't have time to get out their phone and call 911.
GuardLlama solves the problem with a simple key fob that mates to a smart phone. With the push of a button, your location is immediately sent to a national dispatch center and the authorities are notified that you are in danger. There are no buttons to dial, questions to answer or anything else to do. The police know where you are via GPS within a nine foot radius. It's a  product that can literally save lives. Parisi, along with business partner Nick Nevarez, pitch their business in episode 823.
GuardLlama markets to real estate agents who often show homes to complete strangers. There's been a rise of assaults on agents in recent years since they often meet strangers in empty homes. Many of these attacks could have been prevented with GuardLlama. The company also markets to students, runners, and people who travel frequently. Much like a home security system, there's a small initial investment for the device and a monthly monitoring fee of about $10.
My Take on GuardLlama
Three of my four daughters live in cities far from home. They're on campuses and probably put themselves at risk without their (or my) knowledge on a regular basis. As a dad, GuardLlama would ease my worries. This product reminds my of LifeAlert, a similar device marketed to senior citizens living alone with the famous tag line" "I've fallen and I can't get up!"
GuardLlama takes the Life Alert concept and gives it a 21st century make-over with smart phone pairing and GPS. I think it's a smart product that could catch on with any one of their target markets. When you compare the monthly costs to a life saved, there is no comparison. I am in.
Do Sharks like Llamas?
While this business has a noble mission, the Sharks will want to know numbers. The money here is in the monthly billing, so things like number of active users, turnover rate, and customer acquisition costs will come up. Assuming Nick and Joe have the answers and a decent valuation, the Sharks should at least nibble.
Here's an interesting thought: Barbara may see the wisdom of the product for her profession. She could roll out thousands of units instantly with a simple endorsement. Unfortunately, she doesn't often bite on technology plays. Perhaps she teams up with Sacca on this. She could bring the credibility to realtors and Sacca could deal with the tech side.
Any of the other Sharks, with the possible exception of Lori could make a play too, butI think it's time Sacca and Barbara teamed up on a deal.