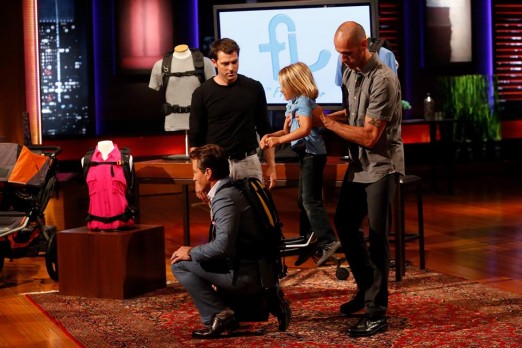 Austin, Texas firefighters Erick Jansen and Nathan Jones bring the Freeloader, their lightweight child carrier, in Shark Tank episode 503. They describe the Freeloader as "a child carrier, baby backpack and hiking carrier in one." The two dads designed the Freeloader to allow them to conveniently tote their kids when they got too tired while providing a daypack sized storage area for carrying supplies.
When the kids get tired, simply fold out the seat and load them on your back. It's designed for kids 2-8 and can carry a child up to 80 pounds, although Jansen rode on Jones' back in one of their promo videos. The two men used Indiegogo to fund their start-up back in July, 2012 and successfully raised $32K ($2K more than they asked for) to manufacture the first run of Freeloaders in July 2013. They hope to use the profits from the first run to fund their second run, or get a Shark to lend a hand.
The Freeloader Shark Tank Recap
Erick Jansen and Nathan Jones offer the Sharks an opportunity to invest in The Freeloader to the tune of $200,000 in return for 15% of the company. The pair explain that the product was born of the problem of traveling with kids who are older than toddlers, but have a hard time walking long distances. The carrier can hold children up to 80lbs.
Robert Herjavec tries out the harness with Jones' son, River. He declares it comfortable. The carrier includes a 5 point safety harness to prevent falls and distributes the weight, making it easier to carry a heavy older child. Herjavec is convinced "it's a great idea," and wants to know about sales. The pair ran a Crowdfunding campaign, and raised over $40,000.
Lori Greiner is concerned about weight, but Jansen explains that their carrier is actually two pounds lighter than the average weight of carriers currently on the market.
Who's In?
Mark Cuban believes that the pair should invest in further testing before they fund another run. He believes it's too early to bring the product to market, and he's out.
Barbara Corcoran believes the carrier won't sell without demonstration, and she believes the window of time that it would be useful to parents is too small. She's out. Lori Greiner loves the pair, and loves to help fireman, but she's concerned about liability and safety issues. She's out.
Kevin O'Leary believes that the manufacturing and safety issue can be overcome, but he agrees with Mark Cuban that it's too early, and he's not ready to invest in the work it would take to bring it to market. He's out.
Robert Herjavec loves the product but he doesn't "think it's a company today, but a journey." He likes the product and the company, but he "sees it as a partnership." He makes them an offer: $200,000 in return for 33%. The pair accept, and The Freeloader gets a Shark deal.
The Freeloader Shark Tank Update
Although Herjavec was excited about the project, and offered a lot of value in terms of marketing expertise and contacts, Jansen and Jones eventually decided that 33% of the company, more than double their initial offering, was too much equity to give up. They did not follow through on the Shark deal. Instead, they sought out funding from other sources, and continue to invest into research and production of their product. Since appearing on Shark Tank, the entrepreneurs have upgraded the Freeloader's harness system and added stirrups for greater comfort.
They continue to grow their business, and have been approached by families of special-needs children, a market that wasn't discussed in the Shark Tank, but one that holds a great deal of potential for the pair. The Freeloader creators are carving their niche and building their business, confidently navigating the waters of business even without a Shark to guide them. As of November, 2022, they are still in business and both men are still firefighters. Lifetime sales are $5 million.
Posts About The Freeloader on Shark Tank Blog
The Freeloader Information