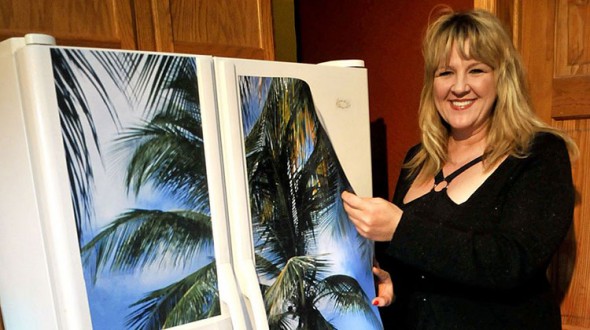 Jan Augenstein comes to episode 115 of the Shark Tank with her revolutionary new kitchen appliance decor, Fridge Fronts. The magnetic sheets are printed with stunning images, and are cut-to-fit any size refrigerator, range, or dishwasher. The cover both protects the existing surface of the appliance and offers a customized designer look.
Augenstein has had a rough path getting her Fridge Fronts product off the ground. Her brother initially invested $250,000 into the company to get it off the ground. While an appearance on Rachel Ray's television show launched a wave of interest that crashed the Fridge Fronts website, setbacks were soon to put Fridge Fronts on the rocks. Augenstein put in an order with a small print shop, which went out of business before fulfilling the order she'd already paid for.
Now she needs the Sharks to help fund her endeavor, to create more designs and move the product forward into the retail market. If she doesn't get a Shark investment, she may lose her home. Will they nibble, or give her the cold shoulder?
Fridge Fronts Shark Tank Recap
Augenstein is seeking $100,000 for 30% of her company. She presents the Sharks with an old, ugly refrigerator. She demonstrates how a new front completely transforms the look of the 'fridge, and demonstrates her various finishes and designs.
Kevin Harrington wants to know about her Skymall venture. Augenstein explains that she invested $18,000, and made $40,000 in sales. She would have turned a profit, had her supplier not raised the price at the last minute. After Rachel Ray's television show, she had to buy back her product from the bankrupt printer. The setbacks have left her needing the Sharks' help.
Kevin O'Leary feels it's "not a company, it's a product." He's out. Robert Herjavec thinks the product is a novelty, and that the market is too small. He's out as well. Daymond John doesn't see a place for himself in the business. He's out.
Only Kevin Harrington and Barbara Corcoran remain. Corcoran is willing to invest half the money on the condition that Augenstein focus on her already best-selling designs. Harrington is impressed with the Skymall success. He's willing to put in the other $50,000 with Barbara, but he wants the deal to be for 50% of the company.
Augenstein accepts. She landed not one, but two Sharks with her deal.
Fridge Fronts Shark Tank Update
Today, Fridge Fronts has grown far beyond the original few designs, to include dozens of choices. The magnets have evolved as well. Customers with non-magnetic appliances can order their designs in a removable adhesive film instead. The product line has expanded to include more customization in sizes, allowing the customer to do less trimming and cutting to make the product fit their appliance. It seems that Augenstein was able to recoup her investment and launch her Fridge Fronts product, showing all it takes to succeed is a solid product and a willingness to overcome setbacks. A little nudge from the Sharks certainly doesn't hurt, either.
In 2013, Jan sold the business for an undisclosed amount to Best Appliance Skins. The new owners have over 1 million images for their skins. Jan now continues to work as a realtor in Ohio and she operates a home staging business.
Fridge Fronts Company Information
Posts about Fridge Fronts on Shark Tank Blog