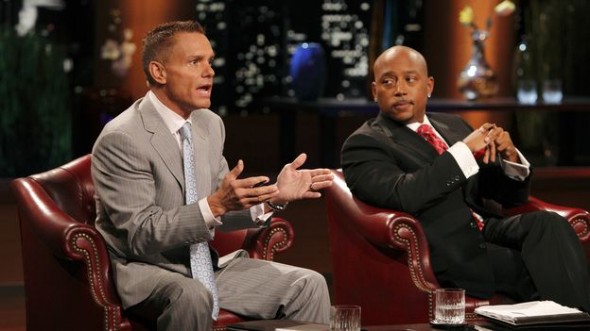 Episode 115 filmed during shooting for season 1, but didn't air until April 14, 2011 – during season 2. This episode features 4 businesses seeking an investment from the Sharks. Jan Augenstein hopes to attract interest in Fridge Fronts, her decorative, magnetic refrigerator covers. Bob Kroupa pitches New Era Brands, a line of "clip n go" cases for everything from mints to contact lenses. April Morris looks for help with Thin Gloss, a line of lip glosses that uses aromatics to curb appetite. George Podd & Rolf Schwartz look to light up the Shark Tank and score a deal for Lightfilm, their patented, light-up decals.
Who leaves with a deal and who leaves Shark bit?
Success stories are shown every week, and Shark Tank Episode 115  showcases Alan Kaufman and his product, Nubrella. Kaufman partnered with Daymond and Kevin Harrington in episode 110 and watched his business explode
There are 9 Shark Tank Episodes for Season 2. If you would like to appear on the show, check out our Auditions and Casting information.
Episode 115 – The Shark Investors and Entrepreneurs
The Shark Tank Episode 115 entrepreneurs make their best pitch to the panel of five Sharks who invest their own money if they like a business. The Shark Investors negotiate on the spot without any previous information, which differs from normal negotiations with investors.
Companies pitching the Shark Investors must go through a rigorous due diligence process before the deal made on the air is completed. Shark Tank Blog follow ups help you keep track of the companies that end up successful and the ones that don't complete their deal.
Thank you for reading Shark Tank Blog, the number one site for Entrepreneurs, Investors and Fans. Our content is updated multiple times day, giving you the latest information on Episode 115, Season 2 and all other seasons and episodes.