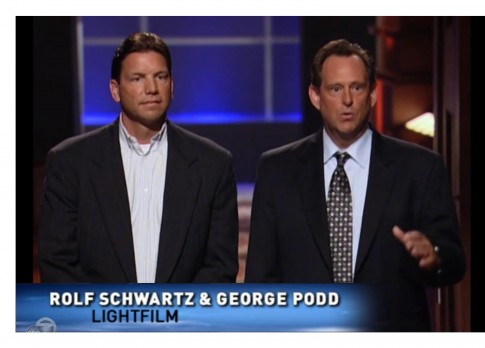 Light Film entrepreneurs Rolf Schwartz and George Podd first pitched the Sharks in episode 115 in season 1. The business partners were seeking an investment for their motion and light sensitive peel and stick decals for car windows. Their angle was to license the product to sports leagues so fans could have a new way to show their support for their favorite team. Light Film was still in a somewhat developmental phase when it was first presented in the Shark Tank: it had a power cord! Subsequent versions of Light Film were wireless.
Light Film Shark Tank Recap
Podd and Rolf come into the Shark Tank seeking a $100,000 investment in return for 5% of their company. The small size of the stake raises a few eyebrows, but the Sharks listen with interest. They want to know how the decal works. The pair explain that they're in the first generation with the product, and need the investment to take it to the next developmental level.
With Podd's background in industrial design, and Schwartz' experience as a financial manager, the pair have a strong position. Kevin O'Leary calls them "the real deal," but will the Sharks take a bite of this potential company?
The pair have a patent application pending, and have already invested $750,000 in patent applications and legal advice on the viability of having a light-up decal on a vehicle. The pair have done much of the due diligence work up front, and are looking to recoup their investment. The product will require marketing, distribution and development.
Kevin O'Leary believes that they will need more money than they've asked for. Kevin Harrington agrees. He's out. O'Leary believes they need a "strategic" partner who has licensing and distribution contacts. He's not it, and he's out. Robert Herjavec is the third Shark to decline to offer a deal. Barbara Corcoran says she's the "wrong partner and the wrong customer." She's out.
Daymond John, the remaining Shark, is willing to talk. He has the distribution and licensing connections, and he's willing to give them $100,000 up-front, and unlimited financing for future orders, as well as his own licensing agreements, but he wants a hefty 75% of the company. Podd and Schwartz counter-offer. They want $750,000 for 51% of the company.
O'Leary calls Daymond John "greedy." Robert Herjavec is interested in coming in. The new offer is for $100,000 and unlimited financing, for 70%. John offers 75% of the profits until the pair recoups their investment. John won't budge. The men accept the deal.
Light Film Shark Tank Update
It seems that the men made the right choice in partnering with Daymond John. Robert joined him in the deal after the show aired. The company was re-branded "PowerDecal," and is one of Shark Tank's most successful stories to date. Daymond kept his word and helped secure licensing arrangements with all the major sports leagues and a bunch of major colleges. They also make the lighted decals with military, pet, Fire & EMS, breast cancer, and a host of other themes.
Light Film changed its name to Powerdecal as part of the marketing strategy cooked up by Daymond and they are in Best Buy stores everywhere. The newly re-named company expects to do $5-$6 million in sales in the first few quarters of its existence. Light Film is featured in a follow-up segment in episode 303 in season 3 and portrayed as yet another Shark Tank success story!
As of July, 2021, the company is still in business and averages over $1 million in annual revenue.
Posts about Light Film on Shark Tank Blog
Company Information