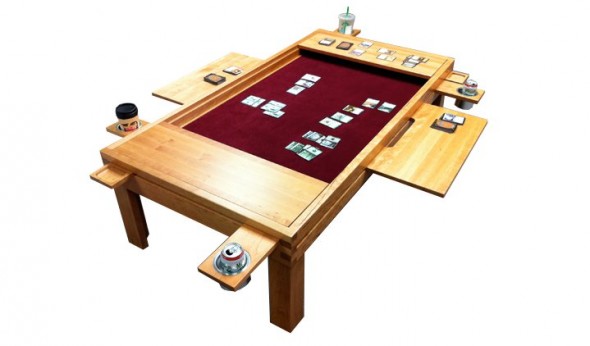 Geek Chic owner Robert Gifford pitches his custom-made, heirloom quality, gaming themed furniture to the Sharks in episode 423. Gifford claims he likes to find solutions for his own problems, then offer them for sale. He makes his Geek Chic furniture in Everett, WA for the discerning gamer/geek who wants functionality accompanied by aesthetically pleasing furniture. Gaming tables created by Geek Chic can be fully customized to accommodate the customer's gaming interests and style. Whether you like a comfy game of cards or role-playing game battle simulations or anything in between, Geek Chic can design a gaming table for you. Gifford is a 40 year veteran role-playing gamer who decided to turn his geeky passion for games into a business. Do the Sharks get in the game?
Geek Chic Shark Tank Recap
Robert Gifford brings Geek Chic to the Tank in episode 422. He's looking for a $100,000 investment, in return for a mere 5% of his company. Gifford defines a "geek" as someone who's obsessively curious about a particular topic. He describes how his hobbies were creating clutter within his home.
Gifford demonstrates one of his tables that doubles as a dining room table, showing how it opens up into space for games to be set up. As impressed as the Sharks are with the quality and presentation of his furniture, the numbers have them nodding, at first. Sales in the first year were $2 million, but the bottom line was less healthy. Geek Chic was in the red for $100,000. Gifford wants to use the investment to improve his manufacturing and shipping capabilities.
Who's In?
Lori Greiner loves Geek Chic, but doesn't believe he can compete in the tough furniture industry. She's out.
Mark Cuban says "furniture? It's just not me." He sees just a table, and doesn't want to be in that industry. he's out.
Robert Herjavec buys into the furniture itself, but doesn't believe in the business model. He's out.
Kevin O'Leary tells Gifford he's "an anomaly," having come this far in the furniture business. He believes he should keep his company small and not aspire to sell on a large scale. He's out.
Daymond John isn't sure he can "ride" with the "geek thing," but he's in love with the furniture, and how Gifford's running the company. He makes an offer; $200,000 for 25%.
Gifford counter-offers for $500,000 for 15%.
Daymond John is unimpressed, and stays firm with his offer. Unexpectedly, Robert Herjavec jumps back in with an offer of more cash. He offers $300,000 for 25%.
Gifford accepts Herjavec's offer, and leaves the Tank with a Shark deal.
Geek Chic Shark Tank Update
After the Shark Tank, Gifford, in true "geek" fashion, studied the minute details of the offer, and ultimately decided to go with another investor. The company continues to grow, though cash flow has been an ongoing problem. Gifford's strategy of slow growth and keeping prices affordable is working for now, but he'll have to start showing a profit at some point, if the Geek Chic company is to remain alive. Gifford is determined to keep his dream afloat.
"I like building things," he said in an interview with the Herald Business Journal. "I don't like to build things that don't last. And this company has to last outside of me."
Unfortunately, the company didn't last. On June 13, 2017, the company announced it was closing. The next month, the company declared bankruptcy with $7.5 million in liabilities and assets of just $1.4 million.
Posts About Geek Chic on Shark Tank Blog
Geek Chic Information