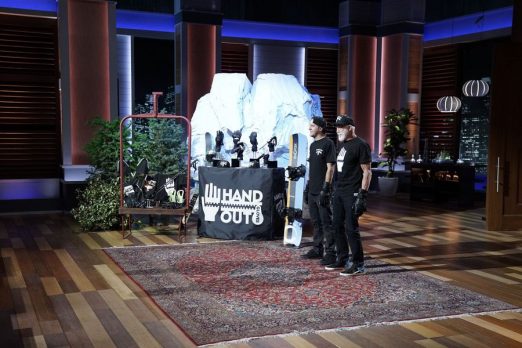 Jake Sullivan and Don Wildman are looking for a hand up from a Shark when they pitch HandOut Gloves in Shark Tank episode 812. Sullivan, an avid skier and hiker, founded the company in 2013 to provide folks who love the outdoors in wintertime better gloves and mittens. Wildman is a true WILD MAN. He's the founder of Bally's Total Fitness and is the oldest Ironman triathlete competing today. Whether he has a stake in the business or is along to help with the pitch remains to be seen.
Hand Out Gloves are heavily insulated gloves with zippers that allow the wearer to quickly get their hands out without removing their gloves. People who spend a lot of time outdoors in cold weather still need to use their hands. Taking gloves off isn't the best solution because you can drop them and get them wet or lose them all together. Sullivan's design leaves the glove on your hand while freeing your fingers to cool off, dial a phone, or do anything else hands do.
There are three styles of gloves: lightweight, sport, and pro. Depending on the model, they're either leather or polyester outers material with a waterproof liner and water proof zippers for quickly freeing hands. They have straps to hold the removed portion of the glove out of the way. The mittens operate the same way. A pair of HandOut Gloves will set you back $40-$120, depending on the model.
Sullivan currently sells his gloves in ski shops. He has sales reps in every major ski market in the US. He likely wants a Shark's help growing his distribution base. Will a Shark warm up to this deal?
HandOut Gloves Shark Tank Recap
Jake and Don enter seeking $150,000 for 20% of their business AND a loan for $150,000. Wildman touched on his past business successes and said he paired up with Sullivan because he believes Hand Out will revolutionize the glove market.
He explains the benefits of the gloves and how they work as a woman wearing the gloves comes out spinning flaming disks. Don, says Jake needs more help since he's young and Don is getting on in years at 85. Jake then hands out samples.
The Sharks remark about Don's physique and Barbara says he could be her third husband, but Kevin said Don was too young for her! Don further explains his business background and reveals he's worth about $100 million. Robert compared the Hand Outs to gloves he's bought for his kids and Don explains theirs offer full, five-finger dexterity.  Jake tells the Sharks they have a utility patent on the gloves.
As for sales, their first year in business, they did about $15,000 selling only in Salt lake City. In year two, they jumped to $125,000 due to getting picked up by REI and selling on Amazon. Barbara decides to offer $150,000 for 12.5%, but she wants another Shark to join her for another $150,000 and 12.5%.
Robert said he didn't know how to make the business bigger, so he's out. Mark says he doesn't have any of his people in outdoors markets, so he's out. Kevin doesn't think the product is for him, he's out too. That leaves Lori, but she thinks there's too much competition, so she goes out. Robert tells Barbara to put up the whole $300,000. Don then offers $300,000 to help balance the books and Barbara offers $300,000 as a line of credit at 6% interest for 25% of the company.
HandOut Gloves Shark Tank Update
The Shark Tank Blog constantly provides updates and follow-ups about entrepreneurs who have appeared on the Shark Tank TV show. There is no evidence the deal with Barbara ever closed. After appearing, HandOut Gloves expanded their retail presence and beefed up their Amazon store. They added lightweight gloves and neoprene gloves for fishing too. Sadly, in September, 2018, Wildman passed away from cancer when he elected to discontinue treatment after battling the disease for several years. In 2019, the company plans on adding a line of gloves for hunters and work gloves.
As of December, 2021, the company is still in business. They added the hunting, fishing and work gloves to the line as planned. They had some supply chain issues due to the Covid-19 pandemic and ran out of snow gloves; they planned to restock in November, 2021, but still had not received their shipment of gloves by Christmas. Their retail presence is still limited to independent shops and ski areas, but they're still managing to do $1 million in sales revenue annually. As of September, 2022, they are re-stocked with all products.
Posts About HandOut Gloves on Shark Tank Blog
HandOut Gloves Company Information
Video