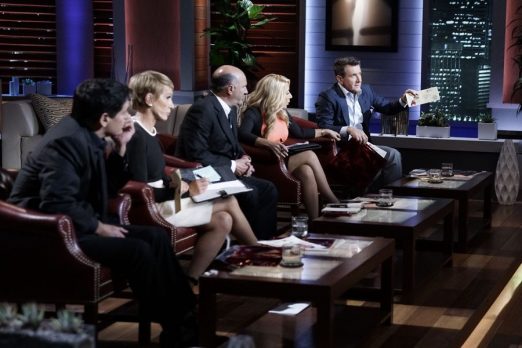 Episode 812 is 2016's Shark Tank "holiday special." Four new businesses with a wintery/holiday theme look to the Sharks for an investment to help grow their businesses. Jim Loughran, an "icetrepreneur" from New York, pitches PolyGlide – a synthetic ice surface system that lets people put a skating rink virtually anywhere. Sarah Blain brings som Christmas magic into the Tank with Sealed by Santa, her "letter from Santa" business that sends kids letters from a North Pole postmark. Don Wildman, the world's oldest triathlete and founder of Bally's Total Fitness, assists Jake Sullivan when he tries to find a fit with a Shark for HandOut Gloves – his "convertible" winter glove line. Charlie Williams and Brad Boskovic want to wrap up a deal with one of the Sharks for Digiwrap, their patented process that lets them print any image on tissue wrapping paper and gift bags.
Which business gets a holiday boost from a Shark?
In this episode's update segment, viewers get an up close and personal look at Mark Cuban. We'll see where he grew up, where he went to high school, and more.
There are 28 Shark Tank Episodes for Season 8. This season features more appearances by Chris Sacca and a host of other surprises. Casting is currently closed, but it never hurts to get a head start on season nine! If you would like to appear on the show, check out our Auditions and Casting information.
Episode 812 – The Shark Investors and Entrepreneurs
The Shark Tank Episode 812 entrepreneurs will make their best pitch to the panel of five Shark investors who will use their own money if they choose to invest. The Shark Investors negotiate on the spot without any previous information, which differs from typical negotiations between venture capital investors and entrepreneurial start-ups.
Companies pitching the Shark Investors must go through a rigorous due diligence process before an on-air deal is completed. Shark Tank Blog follow ups help you keep track of the companies that end up successful and the ones that don't complete their deal.
Thank you for reading SharkTankBlog, the number one site for Entrepreneurs, Investors and Fans. Our content updates multiple times day, giving you the latest information on Episode 812, Season 8, and all other seasons and episodes.
Episode 812 Press Release
Episode 812 (12/9)
THE 'SHARK TANK' BECOMES A WINTER WONDERLAND, WITH BUSINESSES AND PRODUCTS GEARED FOR FROSTY WEATHER AND THE HOLIDAY SEASON
In the Second in a Series of Shark Profiles, Mark Cuban Tells His Story, Which Includes a Hometown Visit to His Pittsburgh, Pennsylvania, High School
"Episode 812" – Pitches include an entrepreneurial single mom who works with Santa Claus to ensure he personally replies to the letters he gets from all good boys and girls, complete with an official postmark from the North Pole; an 83-year-old Ironman triathlon competitor from Malibu, California, and his millennial-aged business partner from Sandy, Utah, who invented a better-designed, more functional winter glove; the Sharks have some advice for an entrepreneur from Island Park, New York, whose synthetic ice panels can convert any area into a home skating rink; and two men from Glendale Heights, Illinois, who aim to make gift-giving more personalized with their product. In the second of a series, there is a "Shark Profile" on billionaire Mark Cuban, owner and chairman of AXS TV and owner of the 2011 NBA champion Dallas Mavericks, highlighting how his upbringing and unique business background fostered his love for entrepreneurship. Cuban takes viewers on a tour of where he grew up, including visits to his boyhood home and neighborhood, and returns to his high school for the first time since graduating, on "Shark Tank," airing FRIDAY, DECEMBER 9 (9:00-10:01 p.m. EST), on the ABC Television Network.
The Sharks in this episode are Mark Cuban, Kevin O'Leary, Barbara Corcoran, Lori Greiner, Robert Herjavec.