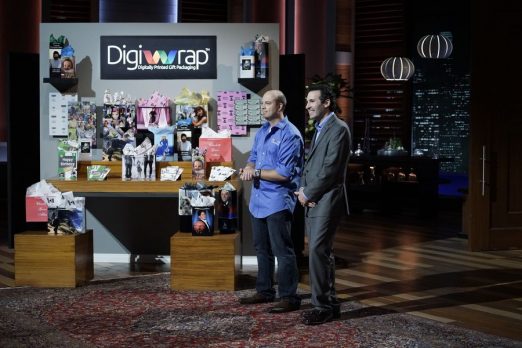 Charlie Williams and Brad Boskovic hope to wrap up a deal with a Shark for Digiwrap, their customized wrapping paper business, in Shark Tank episode 812. Founded in 2013, Digiwrap is custom printed gift wrap. Both men are printing and marketing industry veterans who teamed up to form the company.
Their idea and processes are patented. They print tissue paper and gift bags for wrapping gifts. They started selling to traditional users like retailers and they expanded to weddings, showers, and corporate events. If there's a gift involved, it needs to be wrapped and Digiwrap can personalize the wrapping paper for companies that want enhanced branding or individuals who want a personal experience.
Customers send their artwork/logos to Brad and Charlie who then print virtually anything on tissue wrapping paper and gift bags. Whether it's a company logo, picture of a bride and groom, or a unique design, they put it on the product to enhance the gift giving experience.
They likely need a Shark to help them grow their capacity. Will a Shark want to get wrapped up in this business?
Digiwrap Shark Tank Recap
Charlie and Brad enter seeking $150,000 for 10% of their business. They explain the  business and give the Sharks custom gift bags with their faces on them. Robert says he's seen custom bags before but Brad tells him nobody can do small runs like they can. Charlie says they work with Zazzle to wholesale their products. They are also the only company doing custom tissue paper because they patented the process. Sales the previous year were $350,000 and they are on track to do $500,000 this year. Their average cost to make a a sheet of tissue is 50 cents and the average cost to the consumer is $1.00.
Robert thinks the products look good but it will be too hard to grow the business, he's out. Mark echoed Robert's comments and went out too. Barbara doesn't think there is a big enough market, she's out. Lori doesn't think people will spend on packaging since they usually throw it away, she's out. Kevin offers the $150,000 for 50%. The guys counter with 25% and then suggest a royalty deal. After a lot of back and forth negotiations, they agree to do a deal for $150,000 for 20% with a nickel royalty on each sheet of tissue sold and 10 cents on each bag until Kevin recoups $450,000.
Digiwrap Shark Tank Update
The Shark Tank Blog constantly provides updates and follow-ups about entrepreneurs who have appeared on the Shark Tank TV show. The deal with Kevin never closed. As of February, 2023, the company is still in business and does an estimated $3 million in annual revenue.
Posts About Digiwrap on Shark Tank Blog
Digiwrap Company Information
Video