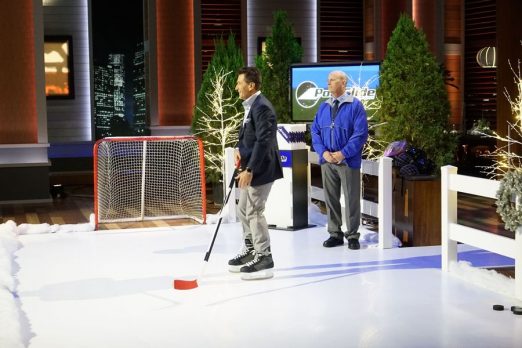 Jim Loughran hopes to skate away with a deal for PolyGlide, his synthetic ice for skating rinks, in Shark Tank episode 812. Loughran created the product to allow people and public rinks the ability to have an ice skating surface virtually anywhere and in any kind of weather.
The PolyGlide system consists of a series of polymer plastic panels. Customers can buy standard sized panels or have a rink custom-made to a specific design. The panels are "beaded polymers" which allow for low friction when in contact with skates. For added performance, you can use a spray-on glide enhancer that prolongs the life of the panels.
PolyGlide panels can be used indoors or out doors and lock together using dovetail joints that provide a virtually seamless skating surface. Panels come in four packs of 2'x4′ or 4'x8′, so customers can build out a rink according to their budget and needs. Extras like goalie creases, face-off circles, and edging are optional. Whether you want a do-it-yourself rink or a custom order, Poly Glide can make an ice surface for anyone.
Will a Shark want to swim in ice?
PolyGlide Shark Tank Recap
Jim enters seeking $150,000 for 20% of his business. He explains his product while a family plays hockey on the "ice" on stage. Barbara wants to know how many people would actually use it, she worries a "garage rink" would result in broken windows.
Robert says he's seen similar products, but Jim explains most other products don't have the smaller panel sizes for residential use. He also sees it as more than just a hockey product. The infuesed lubricants set it apart as a total skating product.
Robert laces up some skates and tries it out as Jim hands out samples. He tells the Sharks no special skates are required. AAs for sales, he's done $1.3 million in 3 1/2 years with another $400,000 projected for this year. The Sharks think it's expensive to build a rink this way, but jim explains people don't want a HUGE rink for home skating.
Mark doesn't think Jim is selling it that well, so he goes out. Kevin goes out stating that he doesn't think he can scale it. It doesn't have enough mass appeal for Lori, so she's out too. Barbara thinks Jim is low energy too, so she's out. Robert notes there are several competitors and he doesn't see the wide appeal so he's out too,
PolyGlide Shark Tank Update
The Shark Tank Blog constantly provides updates and follow-ups about entrepreneurs who have appeared on the Shark Tank TV show. Jim continues to sell Polygilde and now sells on Amazon. Customers like how they can add to their rinks as they go. While he didn't get a deal, Jim is still plugging away.
As of February, 2023, the company is still in business with revenues of $1 million per year.
Posts About PolyGlide on Shark Tank Blog
Polyglide Company Information
Video