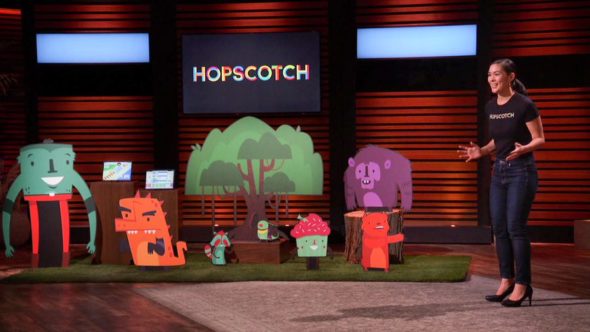 Samantha John introduces the Sharks to Hopscotch, her app that teaches kids how to code, in Shark Tank episode 1212. John learned to code as a senior in college and loved it. When she became a parent, she wanted a way to teach kids how to code, so she created the app to do it. Along with her team, she built a fun, interactive platform aimed at 6-16 year olds.
The way it works is kids use simple code to create games and artwork. The app guides them each step of the way. Once they're done coding, they can share their game with other kids on the platform. Anyone can play the shared games, too.
The app is free for a week, then it's $9.99 a month or $80 for a year. There is a free version, but you won't have access to premium editing features or the ability to upload your own artwork. The company's mission is "to create a programming environment that lets kids explore powerful ideas while making real software." They're looking for a Shark to join them in teaching kids to code.
Company Information
Video

Posts about Hopscotch on Shark Tank Blog
Hopscotch Shark Tank Recap
Samantha enters seeking $400,000 for 4% of her company – that's a $10 million valuation. She says she wants a Shark's help changing the way she monetizes the app. Currently, she has a subscription model. Instead, she'd like the app to be free and monetize it by charging for game downloads. The Sharks express concern about that model as the business is just barely profitable now. More users and potentially less revenue are the cause of these concerns.
Mark says he's familiar with the app because his own kids use it. He also likes the company's mission of teaching tech literacy to kids. Mark offers $400,000 for 16%. After some back and forth negotiations, they agree to a deal at $550,000 for 11% – a $5 million valuation.
Hopscotch Shark Tank Update
The Shark Tank Blog constantly provides updates and follow-ups about entrepreneurs who have appeared on the Shark Tank TV show. The first rerun of this episode is in May, 2021. As of this date, there is no evidence this deal has closed. Due diligence on Shark Tank deals can take up to a year. As of July, 2021, the deal still isn't closed. Annual revenue for this business is $3 million. In the years following the original air date, downloads went up a whopping 500%.
As of  December, 2021, the deal still hasn't  closed and likely won't. The company plans on launching Game Developer Workshop Level 1, an educational, live-online coding program that will give kids the coding knowledge, skills and confidence they need in order to thrive in today's digital world. Classes meet for an hour once a week and the students get personalized help from instructors when they need help. There is "homework" too. The goal is to teach the kids how to design their own video game. The cost is $399 and classes are slated to start in January, 2022. By July, 2023, the company's annual revenue grew to $5 million.
I will update this page as more information becomes available.