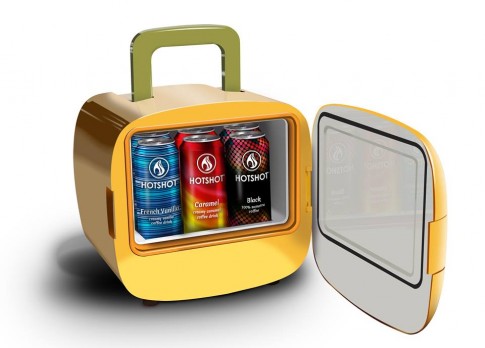 Danny Grossfeld pitches HotShot, hot coffee in an aluminum can, to the Sharks in episode 704. HotShot, the first ready-to-drink hot beverage company in the USA, is the result of Grossfeld's visit to Japan in 2009, where he discovered hot coffee in a can. Canned hot beverages are a $14 billion business in Japan, and HotShot seeks to replicate that market share.
Cans of HotShot coffee keep the beverage at a 140 degree temperature with the aid of a "HotBox," a "heated refrigerator," and a special insulated label over the aluminum cans. Mr. Grossfeld has HotBoxes for home and commercial use. The coffee itself is made from Arabica beans roasted to perfection, giving consumers a fresh roasted coffee taste right out of the can. Flavors include French Vanilla, Espresso, Caramel, and Hot Chocolate.
Grossfeld, who claims he's sunk a million bucks into HotShot, tried to get $100K in funding on Kickstarter last spring, but his efforts were unsuccessful. As of the air date of this episode's original air date, the product is not available for sale.
Mr. Grossfeld is likely looking for a Shark to help get production going and for help with distribution. Will a Shark give canned hot coffee a shot?
HotShot Shark Tank Recap
The pitch begins with an "at home" segment." Danny explains his dad runs a bankruptcy practice and is supportive of his entrepreneurial endeavors. He tells the story of finding hot canned coffee on a visit to Japan; he wants to make HotShot as big in the USA as it is in Japan and he wants to make his father proud.
When Danny enters the Tank, he's seeking $300K for 10% of the business. He explains he's created the ultimate convenience in hot coffee – people will never have to make coffee again. He hands out samples and Lori comments "Ooh, it's warm." Danny explains it would be very hot without his insulated label.
Danny tells the Sharks the story about Japan and "discovering" the coffee in a can. He's been developing the product for 6 years and has $2 million sunk into it, with no sales. Chris Sacca says he doesn't know whether Danny is pitching or going to therapy. Kevin tells the story of Sisyphus, the man doomed to roll a rock up a hill, only to watch it roll back down.
Danny explains he has interest, but he needs to test it. He also says he has a lot of interest from movie theaters. He tells the Sharks hot canned coffee is a $1.5 billion business in Japan. Kevin says "if you can't make money in 36 months, take it behind the barn and shoot it." Kevin is out. Robert says there are already a lot of coffee shops, he's out.
Chris Sacca says he has a competing company; he's out. Mark says he's out, but he'll put the product in his Landmark Theaters. Lori says there needs to be 6 outs. She feels like it's not going to work and Danny should stop the bleeding. She's out.
RESULT: NO DEAL
HotShot Shark Tank Update
The Shark Tank Blog constantly provides updates and follow-ups about entrepreneurs who have appeared on the Shark Tank TV show. After this episode aired, the Hot Shot website got a complete overhaul. The company announced they were taking pre-orders on the HotBox and would be in movie theaters and convenience stores "soon." In 2018, the company signed a distribution deal with S.K. I. Beverage to distribute the coffee in the NY Metropolitan area. They also did a deal with Cirque du Soleil to sell at their concessions in their traveling shows. Malco Theater Chains, a 35 unit Tennessee theater chain, also sells the product.
Fast forward to August, 2021 and the company has it's hot boxes in dozens of locations nationwide including many movie theaters, Walt Disney World and Shark Tank's Sub Zero Ice Cream shops. As of October, 2022, annual revenue is $2 million.
Posts About HotShot on Shark Tank Blog
HotShot Company Information
Video