Read the Preview Post about Liquid Nitrogen Ice Cream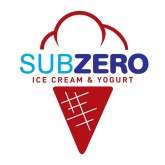 SubZero Ice Cream, which appears in episode 414, was created by entrepreneur and chemist Jerry Hancock. He perfected a method of using liquid nitrogen to make custom ice cream flavors on the spot for his customers. Choose a base (premium, custard, yogurt, low-fat cream, soy or rice milk), choose a flavor (ANY combination you want), and add mix ins. Once all the components are in place, the mixture is blasted with liquid nitrogen at negative 321 degrees and, VOILA! SubZero custom ice cream is yours to enjoy! Ice cream lovers can enjoy Ice Cream at the original store in Utah or one of  16 other franchised SubZero Ice Cream shops. Hancock and franchisees demonstrate the liquid nitrogen process at local schools, which provides an innovative way to market new franchises. The company was founded in 2004 and began franchising in 2005; it is an Entrepreneur Magazine Top 500 Franchise for 2013.
The SubZero Ice Cream Shark Tank Recap
Jerry and Naomi Hancock bring their SubZero Ice Cream to the Shark Tank seeking a $300,000 investment in return for 12% of their company. Fresh ice cream is created right in front of the customer, in under a minute, from a range of flavors.
The presentation and quality of the product impresses the Sharks, but there's more to sweeten the deal. The business is well established, with two corporate stores, eighteen franchises, and eight more in line to be sold. Sales were $2 million in the past year, with projected sales of $4 million for the next year.
A bad partnership cost the couple $500,000. They want to bring the Shark's marketing expertise to the table. Daymond John doesn't feel he "has the time" to develop the business. Kevin O'Leary doesn't find the product "interesting" enough. Robert Herjavec doesn't think it makes sense to bring another new partner into the business. Lori Greiner believes the pair can succeed on their own. The final Shark, Mark Cuban doesn't "want to be in the ice cream franchise business." He goes out, and the pair leave the stage without a Shark deal.
SubZero Ice Cream Shark Tank Update
Since it was already an established business, the Shark Tank effect has boosted business by three times for most of the franchises. In spite of the Sharks turning down the idea, the business seems to have no trouble maintaining momentum. The franchises continue to grow, expanding across the US and internationally. Sub Zero might not have enticed a Shark deal, but the interesting ice cream treat is a hit with customers.
As of May, 2022, there are 35 franchises in operation and annual revenue is more than $15 million.
***editor's note: I've been to SubZero numerous times. The ice cream is delicious!
Posts about SubZero Ice Cream on Shark Tank Blog
Company Information