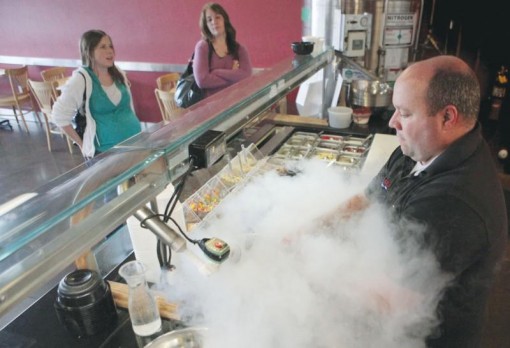 Liquid nitrogen ice cream is a new, scientific spin on the ancient art of ice cream making. I remember a chemistry class in college where the professor froze stuff with liquid nitrogen and shattered it; the lecture had something to do with chemistry, but all I remember is the liquid nitrogen! Chemist and ice cream aficionado Jerry Hancock perfected the art of making liquid nitrogen ice cream in his Sub Zero Ice Cream shop in Provo, Utah back in 2004 and has turned this new method into a growing national franchising operation.
The biggest benefit of liquid nitrogen ice cream is it is as fresh as ice cream can be, since it is made to order right in front of you to your specifications. Regular ice cream hardens in the freezer over several hours after it's been made; with liquid nitrogen ice cream, Jerry says you can "choose your chill factor" and have freshly made ice cream in 15 seconds!
Liquid Nitrogen Ice Cream Franchising
The Sub Zero Ice Cream website is all about franchising. Jerry (an appropriate name for an ice cream entrepreneur IMHO) has taken his concept national with 16 franchisees from Florida to Arizona. Entrepreneur Magazine ranks Sub Zero Ice Cream #365 on their Franchise 500 list of the best franchises. Each franchise requires up to $250K to get started, so it's not for folks who want to bootstrap a business; but for people looking to invest in a franchise with a good upside, strong support, and a record of success, Sub Zero's liquid nitrogen ice cream concept is worth a look.
Will Sub Zero Chill with the Sharks?
Jerry will demonstrate the process and make some liquid nitrogen ice cream for the Sharks. Daymond hams it up and pretends to get frozen by the deep freeze blast. The Sharks like to be fed, so if the ice cream is good, Jerry will have them eating from the palm of his hand. The Sharks usually turn up their noses at entrepreneurs who come in planning to franchise. When Derek from Coatchex mentioned franchising his business in the season premiere, Mark Cuban blasted the idea because it was too early. Sub Zero has proven their franchising concept and the business is nearly 10 years old, so the Sharks will have to take this franchise seriously.
The real question is, why is Jerry bringing Sub Zero to the Shark Tank. It could be a publicity play on his part, but maybe he wants to accelerate expansion by opening company run retail franchise locations to expand in virgin market areas. Blondie's Cookies had similar expansion plans for her retail cookie business in season three, but the Sharks didn't like the debt she brought to the table. If Jerry's books are balanced, the Sharks may find themselves in the liquid nitrogen ice cream business.
I LOVE ice cream, so whether the Sharks get their licks into Sub Zero Ice Cream or not, I am IN!