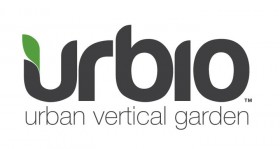 Urbio was created as a solution for an urban vertical garden in small living spaces. Designers and entrepreneurs Beau Oyler and Jared Aller envisioned utilizing wall space for plants and herbs in smaller apartments, so they created Urbio as a stylish solution to the space issue and invented an easy way to start a vertical garden. The pair went to Kickstarter back in 2011 to raise $15K to get the project going and they blew the roof off their goal by raising over $77K!
Modular and Stylish Vertical Garden Solution
Urbio consists of a series of plates mounted to a wall that small containers fasten to with powerful magnets. The containers range in size from the "Shorty" which holds 1.5 pounds all the way up to the "Big Daddy" which holds up to 14 pounds. The idea is to use some sunny wall space to grow a vertical garden. My kitchen is the size of a small hockey rink, but "back in the day" I lived in a place where the kitchen was so small you had to leave the room to change your mind! I can see where this would be a handy tool in a small space; it wouldn't look bad anywhere you want a "green wall."
The Urbio units can be used for storage too if having a vertical garden isn't your thing.  All the components are white and made from "eco-plastic;" they have a "Dwell Magazine feel" to them for folks who like that minimalist, post modern decor. The neutrality of the white coupled with the greens and textures of plants make for an attractive and functional vertical garden solution.
Do Sharks want a piece of a Vertical Garden?
Urbio is a proven concept. The "crowd" over at Kickstarter liked the product enough to fund it more than five times over, but will the Sharks? Beau and Jared have a lot of design credentials and experience running a design business, but will that translate to success in the urban vertical garden product space? The Sharks will size them up on thta question for sure. As always, it will come down to the sales, the margins, and the business plan.
The one objection I can see is the way the containers attach to the wall. I might be leary of having a big planter attached to my small, urban wall. Plants get heavy when watered and the small vertical garden can make a very BIG mess if it comes loose. I'd feel safer with some sort of mechanical fastener, but I haven't tested the mettle of the Urbio magnets.
I like gardening, but I do most of my gardening outdoors, so I am probably not Urbio's customer, but I can definitely see a need for a simple vertical garden solution. Whether the Sharks like Urbio or not, I am "In!"