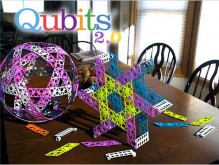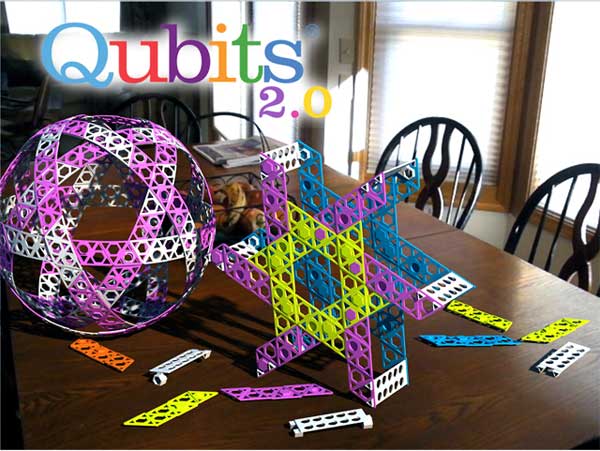 THIS IS A GUEST POST SUBMITTED BY MARK BURGINGER who appeared in season 1 and got a deal for Qubits Toys. Mark is running a crowdfunding campaign on IndieGoGo for Qubits Toys 2.0
As a company who has appeared on Shark Tank (Season one) we have enjoyed reading this blog since its inception, because:
A) It has Honest opinions
B) It provides Accurate Information
C) We love Hot Dogs!
Well that last one is only partially true, but you get the point. What it all boils down to is that The Shark Tank Blog is a great place to get factual up to date information about Shark Tank happenings.
Qubits Toys 2.0
As such, we are very happy to share a little information with you about our company, Qubits Toys. We would like to get you involved with our company at a very important point in the evolution of a new design. Being an entrepreneur is fun and let's prove it together.
First some history. After our appearance on ABC we sold all the Qubits inventory that you saw on the Shark Tank background story.  Then we had the good fortune to sign an agreement with Discovery Toys, LLC who placed a large order of Qubits Kits that we designed especially for them. Those kits sold out within 11 months and we reached the top ten seller list with Discovery Toys.
Like every product, the steps involved from inception to completion are numerous and time-consuming. After selling so many toys and seeing them in the hands of children at local schools, we determined that it could be improved upon.
Well two years after our Shark Tank appearance we just now finished designing Qubits 2.0 – and we are now confident to take the small profit from our 2011 order with Discovery Toys, LLC and invest it in the production of new molds, however this time we are doing ALL of the development right here in the USA. Fortunate for us we made a recent move to Central Florida (Orlando) which as it turns out has a lot of high-end plastic injection companies due to the aerospace industry at Cape Canaveral. The company we now work with is just 20 minutes away from our office in Longwood, FLA, a sister city to Orlando.
Currently we are slated to begin the milling of our new mold during the month of January and the first pressing of plastic parts will be at the end of February. At this point we have just enough money to afford the industrial molds and just a small initial pressing of plastic, about $1,000 worth, enough for us to use for sales presentations. So we thought about it for a while and realized that we could create a crowd funding effort to raise $9,000 so that we could press out $10K worth of Qubits during the very first run. This larger order would allow us to press more pieces with more colors and allow us to prove ourselves again as salespeople. With this crowd funding effort we will be putting out into the public a Qubits First Pressing Toy (a collectible that will be delivered with some type of certificate).
That's where you come in. Our crowd funding effort will allow you to get one of those first kits of Qubits. The packaging will also have labels that declare it as one of the very first Qubits 2.0 kits.
That is an important aspect because based on our experience with the original Qubits we fully believe this version of the toy will be far more successful. So please follow our link to the Indiegogo website where you can learn more about Qubits Toys and receive one of our "Perks". This is your chance to become an important part of this new toy's development. Thank you.
A note from Rob:
Many entrepreneurs are going to crowdfunding sites like Kickstarter and IndieGoGo to get funding for their businesses. Other Shark Tank entrepreneurs have done so successfully, including Urbio and Coffee Joulies in this week's episode 414. Other Shark Tank entrepreneurs who have used crowdfunding successfully include ReKixx (Remyxx) Sneakers, Freaker USA, and The Shemie.