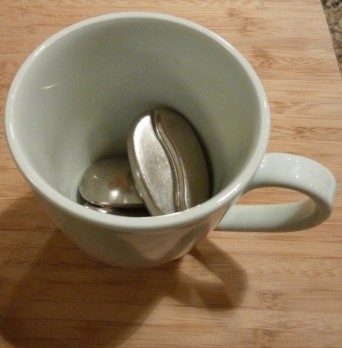 I never heard of thermal energy coffee beans until Coffee Joulies (pronounced Coffee Jewelies) was announced as a business set to pitch to the Sharks in episode 414. Thermal energy coffee beans are stainless steel, coffee bean-shaped pellet. Encased inside the coffee beans are a "phase change material" (PCM) that is solid until it melts at 140 degrees, the "ideal" hot beverage drinking temperature. The PCM inside the coffee beans acts as a thermal regulator, cooling  a hot beverage to 140 degrees almost instantaneously while keeping it at a constant temperature for 3-5 hours. No more cold coffee with Coffee Joulies!
The "two Daves" (David Jackson and David Petrillo) who invented the stainless steel encased coffee beans are engineers, childhood friends, and coffee lovers developed the product, but didn't have a way to fund it. They put up a Kickstarter campaign looking to raise $9,500 to pay for part of the tooling cost and a funny thing happened: they raised over $300,000!
Kickstarter Coffee Beans
This HUGE windfall let the two Daves tool their prototypes AND partner with a silverware manufacturer in Sherrill, New York to produce Coffee Joulies! They had more than enough cash to fulfill the 8,000 pre-orders from the Kickstarter campaign and soon, the online sales began to kick in. The Coffee Joulies Kickstarter campaign was the 3rd most successful of ALL TIME!
Coffee Beans in the Shark Tank
Their Kickstarter campaign was nearly two years ago, so the two Daves may be at a stage in their business where they need capital to expand. They also may want the Sharks to help with their retail connections. The mere fact that the "crowd" funded over $300K for these steel coffee beans should be enough evidence of proof of concept for the Sharks, but I am sure they'll have plenty of questions for the two Daves.
One thing that concerned me before doing a little research is what would happen if the stainless steel exterior of the coffee beans was compromised and the PCM got into my coffee. Keeping coffee warm is a good thing, but not in exchange for being poisoned! The two Daves claim the beans are "100% edible food-grade magic," so there goes that objection! I don't have any other concerns about the product. It's moderately priced, the coffee beans will last indefinitely, and there is nothing else like it on the market.
I can see the Sharks jumping on this business as long as they like the two Daves. They have a great story, a made in America product, an enthusiastic "fan base," and proof of concept. This could be one of those pitches that elicits multiple offers from the Sharks. As for me, I am set to be thermally regulated: I'm IN!