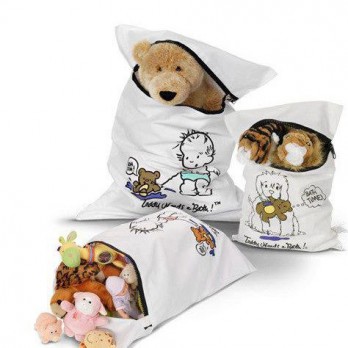 As a father of five, I have certainly had to clean stuffed toys over the years. I like to joke that we have enough stuffed toys in our house to insulate the attic! We have Pokemon, Care Bears, Beanie Babies – you name the stuffed toy craze in the past 15-20 years and you can be sure my kids are representing! Despite pleas to friends and family of  "NO MORE STUFFED TOYS" for gifts, the simple fact is: kids love them. Kids also get their toys dirty and there is no easy way to clean stuffed toys (some disemboweled Care Bears in our washing machine would attest to that fact).
A New Way to Clean Stuffed Toys
California "momtrepreneur" Nicole Townend couldn't figure out how to clean stuffed toys effectively either. Instead of arranging for them to disappear as I've been guilty of with particularly grungy plush playthings, she invented Teddy Needs a Bath: a special, porous, fabric bag to house your favorite stuffed toy while it tumbles in the washer and dryer. As a dog owner and mom, she got disgusted by the filth on her daughter's plushies and decided there was a market for a simple way to clean stuffed toys.
Nicole belongs to a mommy entrepreneur playgroup/think tank of sorts near her Huntington Beach, CA home. The moms brainstorm about children's products while the kids play. Several products have been launched from the group, Teddy Needs a Bath is one of the latest. Like most products, Teddy Needs a Bath was invented to fill a need. Nicole wanted an easy way to clean stuffed toys and the consortium of momtrepreneurs liked her idea.
Clean Stuffed Toys equals Sales
Nicole, who is married to Tosh Townend –  a professional skateboarder, married into an entrepreneurial family. Her father-in-law is a former surfing champ and co-owns AcTivEmpire Inc., a brand management consulting firm. With all this expertise in the family, it made making the leap from idea to product development a tad easier to take than if she had to go it alone.
Teddy Needs a Bath has sales, too. The product sells in some local baby boutiques , on Drugstore.com, Amazon, and National Allergy.com, which sold out of product after Nicole appeared on the Today Show. She has the healthcare profession on her side too: they recommend people clean stuffed toys at least once a month to get rid of bacteria, dust mites and lice. Priced at only $14.99, Teddy Needs a bath costs less than many licensed stuffed toys and will surely prolong their usable life!
Do Sharks want Clean Stuffed Toys?
The strength of Nicole's sales ought to have the Sharks interested. Teddy Needs a Bath is priced right and the margins should be pretty strong. It looks like Nicole has some good people with her, she even employs a professional marketing consultant to help her get into the big box retailers. My instincts tell me this could be more of a "connections play" than a funding play for Nicole; many Shark Tank entrepreneurs see a partnership with a Shark as an accelerated way to get national distribution in big retail chains.
A new way to clean stuffed toys will appeal to the Sharks with kids (or grandkids) because it is a sensible product that any household with small children and a big pile of plush toys would use. If Lori thinks Teddy Needs a Bath is a "hero," I think she'd be interested; it's got the makings of a good QVC seller: inexpensive, "demonstrateable," and useful. The boys better watch out for Lori playing the "girl card" if she likes both Nicole and Teddy Needs a Bath! Mark Cuban might be interested too since he's had success with kids' products and since his son probably has a pile of stuffed toys.
I think Nicole has a winner, I wish I had an easy way to clean stuffed toys 15-20 years ago! I, along with Share Bear, Pikachu and the gang, am "IN!"