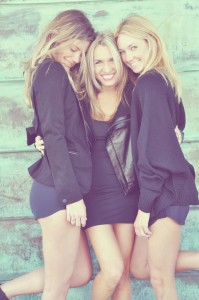 Shelton Wilder didn't plan to discuss her personal life when she appeared on Shark Tank in episode 407. She did have a plan though – a business plan. Shelton literally launched her business, The Shemie, in the Shark Tank. The sexy, savvy entrepreneur has been in the fashion industry since she was sixteen and used her knowledge of the industry, her personality, and her flair for design to effectively start a business from nothing, with the aid of the Shark Tank. I had a nice chat with Shelton Wilder the other day; she filled me in on her whirlwind start-up and The Shemie's progress after Shark Tank.
Shelton Wilder Southern Belle and LA Fashion Star
Shelton Wilder is a Los Angeles transplant. She's originally from North Carolina and came out to LA 6 years ago to further her fashion career. As a self-described "lifestylist" for Nordstrom (she still works there), she takes clients through the whole process of creating a look for themselves. "I get you all fixed up," she said, "whether you need an outfit for the boardroom or Friday casual, I help you put everything together." She's done a bit of everything in fashion, "I've been a buyer, a manager, a salesperson, a stylist, everything you can think of."
Shelton has also done a little stand-up comedy. "I  appeared at the Hollywood Improv. I just love improvisational comedy. I practiced at it to prepare for Shark Tank." While Shark Tank may not always be a comedy, Shelton Wilder claims the experience of performing comedy on stage "prepared me for the show more than anything."
Shelton Wilder goes fishing for Sharks, and funds
The move to LA helped Shelton Wilder make the kind of contacts you need to get ahead in the fashion world. An LA friend helped her apply to Shark Tank. "I have been planning to get this business going for a while, Shark Tank became the catalyst to get started. I have a friend who knows one of the producers and made an introduction. I made a tape and sent it in. I was honored to be picked out of 30,000 applicants. The business was totally raw. I had no sales and no product, it was brand new.  I was moving forward, designing, sourcing fabrics, those types of things, but I think I am the first person to actually start my business on Shark Tank! I think there should be more people like me on the show, we really need the exposure."
Up until Shelton's episode aired, she had a simple Tumblr website for her business and no eCommerce platform whatsoever. "I had a completely new site designed by my 'web team' over the summer. We chose a Shopify site to handle the traffic.  On show night, we ran a Google ad and we literally flipped the switch on the new site the day of the show. There were about 23,ooo visitors, the old Tumblr site would have crashed immediately."
With no product and no business, Shelton Wilder used another web strategy used by other Shark Tank entrepreneurs in the past: a Kickstarter campaign. Gary Gagnon of ReKixx Sneakers leveraged his Shark Tank appearance in season three to gain momentum for his Kickstarter campaign. He ended up seeing roughly $16K in funding on Kickstarter as a result of the show.
Shelton has upped the ante on this strategy. "Kickstarter has been part of my strategy since last March, but we timed the launch of the Kickstarter campaign with the air date. The campaign went live the day before the show aired. People can pre-order on Kickstarter, so they're getting the product. It acts as a kind of market research for me too. I get to see the styles and colors people want most. It's kind of like a trunk show, people get exactly what they want.  With all this going on, I feel like a kid cramming for an exam!"  Shelton Wilder is looking to raise $29,000 on Kickstarter. As of this writing, she's received $25,600 in pre-orders; THAT's progress!
Shelton Wilder in the Shark Tank
Shelton Wilder wanted to focus on business in the Shark Tank, but her segment went much further. "Everyone involved with the show was very professional. I didn't study too much, one thing anyone who is going to be on Shark Tank should know, is there is no way you can be prepared for what they are going to ask you. I decided I'd just pray and go out there and be honest. I had real numbers, I had EBITDA (Earnings before interest, taxes, depreciation and amortization) projections, but they didn't show any of that. I wished they focused more on the product, but he edit focused on my personal story."
While Shelton Wilder's edit was an accurate portrayal of what went down in the Shark Tank, there were a few continuity edits. "Right before Daymond John went out, he said he hadn't had much success with female clothing lines; that's why he went out. They cut that part. Also, Lori Greiner went out last, they edited that to look differently."
As for the focus on the personal story, Shelton confessed her battle with alcoholism to the nation. "I didn't come out there to have a sob story, it was totally in the moment. I looked over at Katy (one of the models) and mouthed 'should I say it?' I was at a point where I could have walked or stayed and told the truth. I always tell the truth, it wasn't contrived. It really was the last thing I thought I'd say. I was terrified. My family knew, but talking about it in front of millions of viewers…." her voice trailed off a little, as if she were contemplating the consequences all over again.
"Ultimately it happened the way it was supposed to happen. Kevin O'Leary was pretty nasty (they didn't edit that) and all the other sharks came to my defense. The end result was overwhelmingly beautiful. Other people in recovery have reached out to me with incredible and inspiring comments and I appreciate the loving and kind support people have shown."
Shelton Wilder and The Shemie moving forward after Shark Tank
Shelton Wilder wasn't going into the Shark Tank for connections or help with her business. She was there for the money. "I have been in the fashion business a long time. I was a buyer. I know how it works. Right now I am working with Nordstroms. Getting a product on retail shelves is a long, tedious process, but I hope to have product in stores by Spring 2013. The Kickstarter orders will be filled in January. This time of year is tough to get things going in retail, with the holidays and all, but I have been getting a CRAZY amount of calls from investors and people who claim to want to help me. Like I said, connections weren't what I was looking for. I have a plan and I know what route I want to go. Shark Tank was a way for me to launch my business, I was prepared to go either way. Now I'm just moving forward with the plan we put in place."
I must say it is refreshing to see a raw start-up on Shark Tank. The way Shelton strategized her launch is what a lot of people think Shark Tank  should be: a vehicle for start-ups to gain capital and exposure for their business. While that is certainly an entertaining component, the variety of businesses at different stages of their growth is what makes Shark Tank compelling. Shelton Wilder had the brains and foresight to seize the opportunity and use Shark Tank as a launching platform for her business. She didn't get funded, but she got exposure and she got her Kickstarter campaign off to a great start. She will undoubtedly reach her funding goal there, and she won't have to give away a big chunk of her company to a Shark!
Shelton Wilder could be a model for future Shark Tank entrepreneurs who are bootstrapping their businesses, but she's an inspiration to entrepreneurs everywhere. Like every other entrepreneur I have ever known, she has that "don't give up" attitude.
"You encounter negativity everywhere. I live in POSITRON," she joked, "not NEGATRON. I can go sell anything anywhere, but this is what I'm destined to do."
The answer to the most compelling question of the day can be found at The Hot Dog Truck.