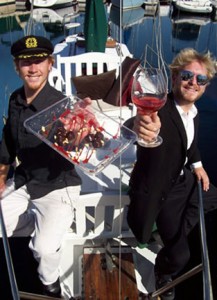 Corks Away Wine Adventures sails into the Shark Tank during episode 411 to pitch their wine themed sailboat tours. Entrepreneurs Nathan Buffet and Shane Cianciolo (better known as Captain Nate and Shane) have been sailing the shore ways of Long Beach, California for years and about three and a half years ago they rebuilt an old sailboat to serve as their entrepreneurial vessel. The two boating entrepreneurs take small parties for a cruise on the sailboat while sampling a four course appetizer menu accompanied by fine wine.
Corks Away Business Model
Corks Away has a business model that can be found in just about any ocean front tourist area. A sailboat cruise accompanied with fine wine and yummy snacks is a fantastic way to spend an evening with friends or that special someone when you just want to get away from it all. Captain Nate and Shane have made quite a name for themselves in the Long Beach area with their wine themed cruises. They offer Holiday, sunset, premium wine, beers and cheers, and couples cruises on their sailboat. They also have a larger vessel, a 72 foot 1920's wooden schooner, that stays docked to provide the Corks Away experience to larger groups. Prices range from $78 to $175 per person, depending on the package chosen.
A quick search shows that, for the most part, Corks Away provides an intimate, fun getaway experience out on the Pacific waters of Alamitos Bay. They note six "guest vessels" on their website, so the Corks Away crew has already worked to expand their capacity. Each Corks Away cruise has a U.S. Coast Guard approved Captain and a California Certified Wine Host aboard ship. The concept is simple: take people sailing, give them wine and appetizers, provide an enjoyable experience, and charge them for it.
Do the Sharks indulge or will Corks Away need a Bigger Boat?
Corks Away is a niche, tourist business. I am sure Captain Nate and Shane do quite well, but the Sharks will have a lot of questions and concerns. The biggest obstacle to getting into this business is the boat. A boat is commonly referred to as  "a hole in the water you pour money into." A business based on a boat would have the money going into the hole exponentially when compared to a private, pleasure craft. Regulations and insurance are big concerns with this type of business as well.
I am sure every one of the Sharks would like to go out and cruise on a Corks Away Wine Adventure, but I doubt they'll see it as a viable investment. Boats are expensive, hiring captains is expensive, weather dictates the business, and it would be hard to duplicate the business on a large-scale. The only viable business plan I can see is Captain Nate and Shane trying to create some sort of franchising or Corks Away affiliation program to offer to entrepreneurial sailboat captains, but the Sharks won't like that model.
I love the business. I grew up sailing and have done my share of open ocean cruising. I like wine too, but I don't think Corks Away is going to get funded by the Sharks. They're going to need a bigger boat.