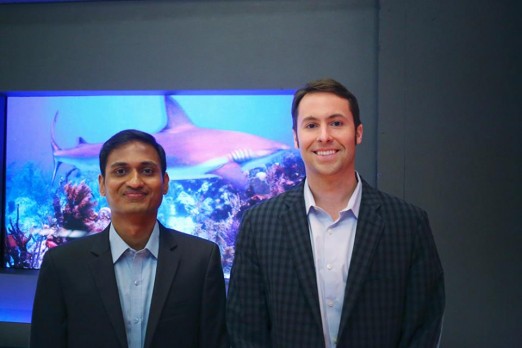 Swapnil Bora and Corey Egan pitch Ilumi, a smart light bulb that's controlled by your smart phone, in episode 529. The pair met whilst getting their MBA's and in 2010 started figuring out how to make their vision for Ilumi work. They won the annual Business Idea Competition at the University of Texas at Dallas and took home a check for $5,000. They re-invested the money into their new business and never looked back.
Ilumi is an LED light bulb that screws into a standard socket. Users control the intensity and color of the light with the Ilumi smart phone app. You can program the lights to come on when you wake and synch changing colors to music, too. The pair successfully funded their business on Kickstarter back in November, 2013, raising a whopping $145,230 (they were only looking for $25K).
It appears they used their Kickstarter funds to do a production run for "pre-orders." They're likely looking to the Sharks to provide cash for inventory and help with distribution.
Ilumi Shark Tank Recap
Swapnil and Corey enter seeking $350K for 15%. They explain how the light bulbs work and ask Barbara how she'd like a simulated sunrise to wake up to. The lights can automatically shut off when you leave the house and  turn on when you return. They can automatically dim, flash in different colors and synch to music! The control mechanism is in the bulbs, which fit into any light socket.
The bulbs are blue tooth based and they are just about ready to go into production. The Sharks are shocked by the price – $289 for a three pack. The lights last up to 20 years and they've found consumers who want the most out of their space will choose Ilumi. Robert calls it a lighting system: screw in the light bulb and set up everything on the app. There are 5 patents pending.
Who's In?
Kevin asks if they want to be in the light bulb business – he thinks they could license. Their goal is to ship by the end of the year and their tooled up and ready to go. Barbara can't see controlling lights with an app or paying $90 for a light bulb – she's out. Lori doesn't think they can be competitive – she's out. Robert thinks in the high-end lighting market, Ilumi is cheap; he offers $350K for 35%. Mark thinks he can bring value and offers $350K for 25%.
Swapnil and Corey ask to hear other offers and Mark says he's out. Corey asks for a 24 second shot clock. Kevin offers $350K when the patents clear, but he wants to license it and take a 15% royalty. Robert says Mark is tagging along but Mark says the value is in ongoing development. Kevin and Mark argue about the value of their patents. Robert decides he's out.
The guys don't like Kevin's business plan. They ask Mark if he'll go to 20%, but he holds firm at 25%. Corey wants to know if Mark could make one phone call to help their business, who would it be? Mark says, "well who do we need to call? There's no one that wouldn't answer my call." Corey says "hey Mark, we have a deal!" In the hall, they say Mark is going to fuel the fire of their growth.
Ilumi Shark Tank Update
The Shark Tank Blog constantly provides updates and follow-ups about entrepreneurs who have appeared on the Shark Tank TV show. The deal with Mark closed. Ilumi returned for an update segment in season seven's episode 721. In the update, Mark accompanies Swapnil and Corey at the 2016 Consumer Electronics Show in Las Vegas. They are exhibiting their second generation apps.
People can find their products in Brookstone, Frye's, and in Canadian Home Depot stores. Since their appearance on Shark Tank, they've gone from pre-revenue to over $2 million in sales. Everyone seems to like their products at CES and Mark calls them a blue tooth mesh company that can control anything without the internet.
By 2015, they were also in Best Buy and Home Depot stores. They also did a Kickstarter to introduce "New Ilumi" that raised $365,662. As of August, 2022, they are still in business and they have dropped the price to $49. They have $5 million in annual revenue.
Posts About Ilumi on Shark Tank Blog
Ilumi Information
Video