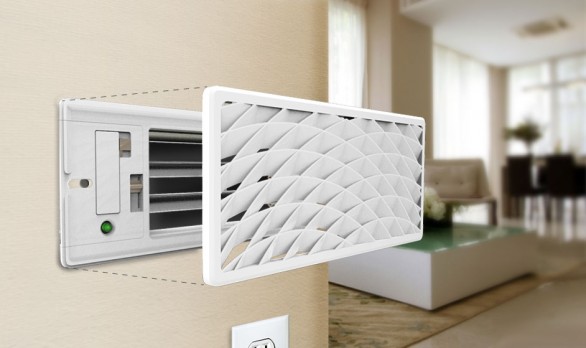 Ryan Fant brings the "internet of things" to the Tank when he pitches Keen Home, smart HVAC vents, in Shark Tank episode 617. Keen Home smart vents, and the accompanying smart phone app, allows homeowners to create different heating and/or cooling zones in their homes by programming when vents should be open or closed.
Fant created the app after agonizing about heat vents blowing hot air in his face while he slept. He wished he could close the vent with a smart phone app. When he visited his parents, he tested how the HVAC system in their home performed when he closed vents in rooms they weren't using. When he realized he could create some serious savings, he began developing Keen Home.
He initially funded Keen Home with a $40,000 successful Indie Go-Go campaign. Soon, he was attracting the attention of some pretty serious investors. To date, the company has attracted $1.6 million in investment capital and it was the darling of the 2015 Consumer Electronics Show in Las Vegas.
The Keen Home concept is fairly simple. When you retrofit "regular" HVAC vents with Keen Home smart vents, you can create different heating and cooling zones in your home. Fant begs the question: "why heat a room you aren't using?" By turning off the heat in un or under used rooms, homeowners can realize significant energy savings. The fact that it can be controlled remotely via smart phone adds to the cache. Keen Home works with some of the new, major "smart" thermostats and is working toward universal compatibility.
Will Mr. Fant heat up the Tank with his smart vents?
Keen Home Shark Tank Recap
After an "at home" segment, Ryan enters with business partner Naib Hussein seeking $750,000 for 10% of the business. The guys want they investment to expand the company quickly. They explain how it works and ask why you should rely on one thermostat to regulate the heat in each room. They explain they could reduce costs by 10-30%.
They have $50K of their own money in the business and $1.5 million in venture funding. They reveal they pre-sold 35,000 units to Lowes. Mark thinks Keen Home is a feature, not a product – he's out. Lori is confused by the product, she's out too.
Mr. Wonderful offers $750K for 25%. The guys think it's a "little rich." Robert agrees with Kevin. Daymond offers $750K for 25% with the option to manufacture in one of his factories. Robert likes the product, he offers $750K for 20%. Mr. Wonderful then offers %750K for 8.5% interest, plus 10% equity. Lori offers to join Kevin.
Robert counters at $750K for 13%. Daymond drops to 20%. Robert says he doesn't like equity debt. The guys mull it over and say they're looking for a partner who is all in, they accept Robert's offer.
RESULT: DEAL with Robert for $750K for 13% equity
Keen Home Shark Tank Update
The Shark Tank Blog constantly provides updates and follow-ups about entrepreneurs who have appeared on the Shark Tank TV show. The deal with Robert closed. Just one year after airing, Keen Home gets an update segment in episode 724. In the update, they tell Robert about their increase in sales. In July, 2019, Keen merged with Ecovent. Ecovent had similar technology but aimed its sales focus to the construction and HVAC industries. Keen was marketed to do it yourselfers. When both companies started getting hooked up to smart thermostats, the merger seemed like a logical step. As part of the merger, Keen was acquired by Connect M Technology Solutions for an undisclosed amount. As of May, 2022, the company is still in business. Annual revenue is unknown.
Posts About Keen Home on Shark Tank Blog
Company Information
Video