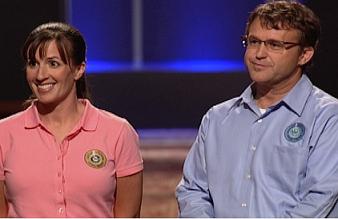 Legal Grind founders Jeff and Annie Hughes came into the tank in episode 114 to show off their unique coffee-house idea. Their company, Legal Grind, is basically a Coffeehouse that provides legal advice. Jeff was straight out of Law School in Los Angeles and had passed the Bar Exam – the only problem was the economy was at a low point and there weren't many jobs available for him.
He decided to pursue other opportunities and had always want to open a coffee shop. Since he ended up spending so much time in coffee shops and was barely in a courthouse, he decided to combine is two passions. With the help of his family, he moved back home and opened Legal Grind. He is looking for an investment for the ability to franchise his business.
Legal Grind Shark Tank Recap
Jeff and Annie came into the tank seeking a $200k investment in exchange for a 15% stake in the company. Jeff tells his story about the company. Daymond John feels that their business could go somewhere with a little help and directive but doesn't like the idea of working with lawyers. He's out. Barbara Corcoran likes the idea but doesn't feel like they will be able to successfully franchise. Plus, the fact that Jeff and Annie don't know exactly what they are going to do with money yet worries her. She is out. Kevin Harrington feels that they do not have all the bugs and kinks worked out to be able to have successful franchises. He is out. Robert Herjavec flat-out doesn't like the idea. He is out. The only thing of value that Kevin O'Leary saw was some "really bad theatre". He feels that there is no business. He is out. Result of Shark Tank: No Deal
Legal Grind Shark Tank Update
Since appearing on Shark Tank, Legal Grind is still in business. They do only have the one shop though. It currently doesn't look like they are franchising. Jeff is, however, active in the community and he continues to blog regularly about legal issues – in addition to serving up a nice, hot espresso.
As of June, 2021, the physical location is closed. Legal services are still available through the website and Jeff continues to blog about legal issues on a regular basis.
Legal Grind Information